Verizon may spend more than $5 billion subsidizing iPhone sales in 2011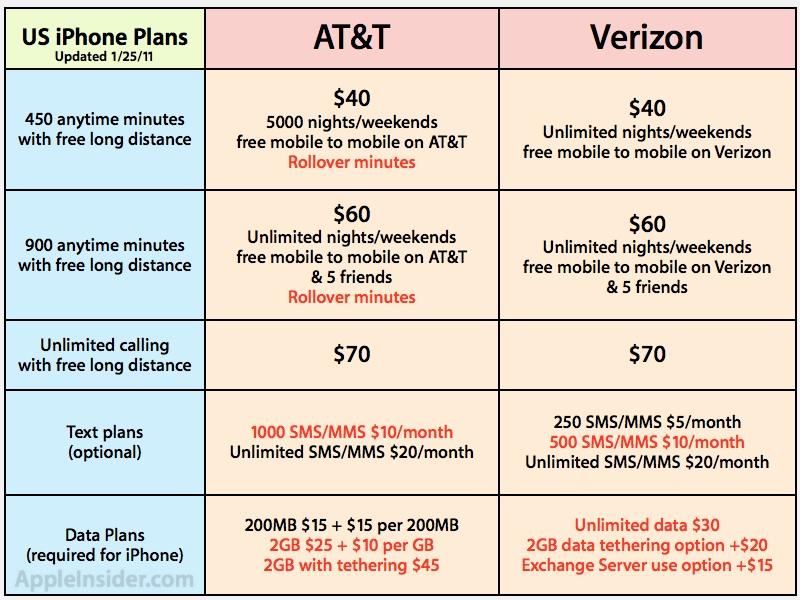 Analysts say Verizon will spend billions this year to make it easy for customers to sign up for data contracts with Apple's iPhone.
According to a report by Bloomberg, Verizon's estimated $3 to $5 billion in iPhone subsidies will initially cut into the carrier's profits in the hopes of adding millions of new smartphone users to its subscriber base.
Verizon to outpace AT&T in subscriber growth for the first time since 2008
John Hodulik, the same UBS AG analyst who said he expected iPhone "to be the dominant device at Verizon as soon as it's launched, and, I think, cannibalize the other devices they sell," estimates that Verizon may sell 13 million iPhones this year with a device subsidy of $400 each. That would amount to $5.2 billion.
As a consequence, Hodulik said, "we expect margins to be down pretty meaningfully in the first quarter and second quarter."
Verizon will earn back the value of those subsidies in its two year contracts, which run between $70 and $120 per month for packages of voice, data and text messaging. Tethering contracts add another $30 per month per smartphone user.
Across two years, carrier charges for a smartphone (without tethering) amount to between $1680 and $2880 per user, making the initial investment in subsidies well worth the $28 to $49 billion Verizon would rake in from serving all those new iPhone users over the next two years.
Verizon's subsidized iPhone sales should help it add 2.1 million new subscribers this year, Hodulik said. In contrast, AT&T is estimated to only add 650,000, making this year "the first time that Verizon's subscriber growth will outpace its largest rival since 2008."
Competition may cut iPhone subsidy
James Ratcliffe, an analyst at Barclays, estimates that Verizon will sell just 9 million iPhones this year, spending $350 to subsidize each sale, for a total of $3.2 billion.
Ratcliffe also expects AT&T to sell just six million iPhones this year, down from around 15 million last year. He also figures that AT&T's subsidy will drop from $400 to $350 per device due to the end of its exclusive deal with Apple.
However, Verizon was rumored to have asked Apple to keep the iPhone exclusive to it and AT&T, locking out Sprint and T-Mobile from also carrying it in the US.
Subsidies hide hardware costs
The report cited iSuppli analyst Tina Teng as saying that the iPhone commands a $400 subsidy that's higher than most other smartphones, which may range from $200 to $400. She expects Verizon will pay the same subsidy AT&T did, but added that subsidies in general should fall as more smartphones enter the market.
Subsidies tend to erase the differences in upfront cost among mobile phones, but by negotiating a higher subsidy due to the appeal of the iPhone, Apple can make it even harder for other phone makers to compete in a pure "race to the bottom" in cost.
That's the opposite of what Apple experienced two decades ago, when it struggled to sell its premium priced, higher quality Macs against cheaper, simpler PCs that lacked features like motorized disk drives, built in audio and SCSI interfaces, and better operating system software. Apple's retail partners back then actively pushed would-be Mac users to buy PCs, creating a monoculture tended by Microsoft's Windows.
While many observers expected this situation to repeat with the arrival of broadly licensed mobile operating systems, a variety of situations have changed. Because mobile phones are sold through carriers who subsidize handset purchases to induce subscribers to buy more expensive data contracts, Apple doesn't have to feel pressured to deliver lower quality products just to stay in the game.
At the same time, Apple also benefits from the iPod's economies of scale, particularly in regards to RAM and application processors, making it harder for competitors to copy the iPhone at a significantly lower cost. Hardware makers selling devices running Microsoft's Windows Phone 7 or Google's free Android OS aren't selling devices that are noticeably cheaper than the iPhone.
Apple is now offering the iPhone 3GS for just $49 with a contact from AT&T, making it essential for Verizon to heavily subside new iPhone 4 sales in order to be competitive with AT&T's hardware prices, while also taking away much opportunity for Android or WP7 devices to compete purely on upfront hardware prices.
Smartphone data plans drive subsidies
Prior to the iPhone, Verizon and other carriers preferred to offer subscribers very cheap phones that could be offered for free with a $100 to $200 subsidy. Those phones did not encourage users to opt for more expensive data plans however.
By pushing more advanced phones to users with aggressive subsidies, AT&T and Verizon have been competing to grow the proportion of their smartphone users, and subsequently earn at least two to three times as much per subscriber per month.
Verizon tried to duplicate AT&T's smartphone success first via RIM's BlackBerry, then with Android phones last year, before deciding to join Apple in selling the iPhone, a move which is expected to be announced tomorrow.