XBMC ported to A4-based Apple TV, iPad, iPhone 4, brings apps, 1080p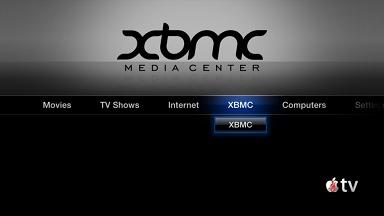 XBMC, an open source, free software project designed to provide an extendable platform for TV set top boxes, has been ported to the new iOS based Apple TV, iPhone 4 and iPad.
The XBMC software, which already runs on the previous Mac OS X-based, Intel x86 Apple TV, has now been released to work on the ARM Architecture A4 chip used in the new iOS version, offering the ability to install apps and play content formats Apple doesn't natively support on its $99 box.
The new port makes Apple TV one of the cheapest devices that can run the XBMC platform (originally targeted at the first generation Xbox as "Xbox Media Center"), but it's not just cheap; it also appears to be quite powerful.
While previous versions of Apple TV lacked the hardware processing capacity for XBMC to deliver 1080p video (without replacing its mini-PCIe WiFi card with a Broadcom Crystal HD hardware acceleration unit), the beta version of XBMC is able to play 1080p video using the stock A4 of the new box, something Apple itself doesn't support in its own software.
Rather than only allowing for thin client streaming, the new release for Apple TV will support the full XBMC platform, including support for playing a variety of codecs, with hardware support for both 720p and 1080p HD video. The group says that "no longer is your AppleTV2 chained to iTunes."
Playback of 1080p content isn't ideal, with a report by Engadget noting "occasional choppiness," (with a demonstration video of XBMC running on the new Apple TV, below), but the finding does highlight the latent processing power of the A4, and by extension, the incredible potential of this year's replacement chip expected for use in iPad 2, iPhone 5 and potentially a new Apple TV.
That new chip, which may be called A5 or A8, is expected to offer dual core Cortex-A9 CPU power and deliver four times the graphics performance of A4 using a dual core SGX543 GPU.
XMBC for ARM: iPhone 4 and iPad
After porting XBMC to the A4 chip for the new Apple TV, the group has decided to also release the software for the architecturally similar iPad and iPhone 4, "because we can."
Apple's iOS family are the first ARM Architecture devices able to run XBMC. Previous releases run on x86 PCs and Macs, and originally the first Xbox, a port which has since been discontinued (the modern Xbox 360 is PowerPC based and can not run XBMC). An XBMC remote app exists for Android, but only functions as a controller for a standalone XBMC machine.
Loading XBMC on an iPhone 4 or iPad requires jailbreaking, as the team observes, "you won't be seeing XBMC in the app-store any time soon, since it directly competes with Apple products." The group provides instruction for loading the software on jailbroken devices for both the new Apple TV as well as iPhone 4 and iPad via Cydia.