Needham ups Apple price target to $450 on growing iPhone, iPad sales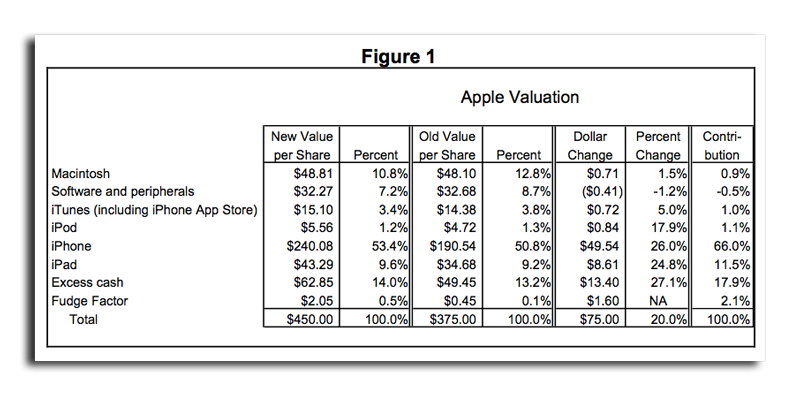 AppleInsider is supported by its audience and may earn commission as an Amazon Associate and affiliate partner on qualifying purchases. These affiliate partnerships do not influence our editorial content.
Needham & Company on Monday increased its price target for Apple to $450, citing "materially higher" sales of iPhone and iPad than were originally forecast.
Analyst Charlie Wolf with Needham said in a note to investors that he has made an upward revision to his forecast, which prompted the price target increase from $375 to $450.
"While the increase in iPhone sales was relatively modest, it nonetheless added $50 to our price target because of the profitability of the phone," Wolf wrote. "The migration to feature phone users to smartphones accelerated in the second half of 2010, suggesting that even our new forecast could prove to be conservative."
Wolf had forecast for Apple to sell 40.1 million iPhones in 2010, a number that came in well below the 47.5 million handsets that Apple actually did sell. In the last quarter alone, Apple sold a record 16.2 million iPhones.
The analyst noted that he also estimated sales of 250 million total smartphone shipments in 2010, though the actual number will likely prove to be closer to 300 million.
Wolf now sees Apple selling about 75 million iPhones in 2011, with the number growing to nearly 100 million in 2012. He's also adjusted his model to represent the average life of smartphone ownership at just 1.5 years, as carriers have encouraged subscribers to upgrade more quickly and become locked into a new contract.
In his revised value of AAPL stock, Wolf sees the iPhone representing the lion's share of its projected $450 value. Based on his model, the iPhone has a value per share of $240.08, well ahead of the $62.85 per share he values the company's excess cash. The Mac comes in third, with 10.8 percent of the stock's perceived value, with $48.81.
Wolf also felt compelled to increase is projections for iPad sales, as he sees the touchscreen tablet representing $43.29 of the company's projected $450 stock value. He said he does not believe that the iPad is going to rapidly lose market share as competing Android tablets are introduced.
"The media tablet market is focused on the consumption and to a lesser extent the creation of content, not on communications," Wolf said. "As a consequence, it's not naturally aligned with the carrier distribution networks, which have been instrumental in propelling sales of Android smartphones. The networks should play a much more limited role in the distribution of media tablets."
Apple's 15 million iPad sales in 2010 were 40 percent higher than Wolf's previous estimate. In his new model, he sees Apple selling 30.1 million iPads in 2011, retaining 90 percent of the tablet market share, and another 46.5 million in 2012, good for an 80 percent market share.