Sprint counters Verizon iPhone 4 with dual-screen Android phone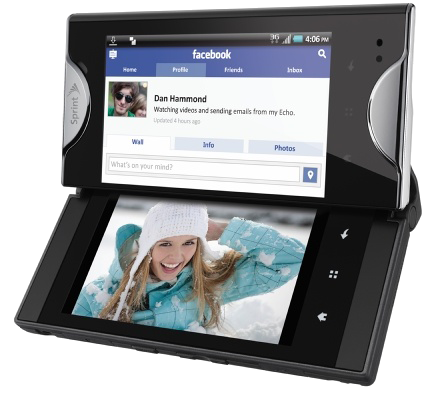 Just days before Verizon and Apple are set to begin general sales of the iPhone 4, Sprint has countered by unveiling an exclusive new Android-powered dual-touchscreen smartphone from Kyocera, a unique device touted as an "industry first."
Sprint held an event this week to hype the Kyocera Echo, a new device with two 3.5-inch WVGA touchscreen displays connected by a patent-pending "pivot hinge," which allows the screens to operate independently, side-by-side or combined. When working in concert, the screens create a display that measures 4.7 inches diagonally, operating in what has been dubbed "tablet mode."
The Echo is set to launch exclusively on the Sprint network this spring for $199.99 with a two-year contract, after a $100 mail-in rebate.
"Sprint is proud to boast the most powerful Android portfolio available today and Echo adds to that legacy with industry-leading technology that will change the way our customers use smartphones," Sprint CEO Dan Hesse said. "Today's busy schedules often demand that we do at least two things at once. Kyocera Echo is the first device that allows us to do a different task on each of two screens while also providing a tablet-like, larger screen experience that easily fits in a pocket when closed."
Just a few days after Apple and Verizon formally announced the Feb. 10 launch of the CDMA iPhone 4 last month, Sprint began hyping an event scheduled for three days before that launch. The carrier boasted that it would show off an "industry first," though the news that Verizon's deal with Apple is non-exclusive led to speculation that Sprint could announce that it too would carry the iPhone 4.
Instead, Sprint announced on Monday the Kyocera Echo, which allows users to accomplish two tasks at once, such as sending an e-mail on one screen and surfing the Web on another. In its closed position, the echo works as a single-display smartphone that the carrier called "pocket friendly."
"For years Kyocera has provided handsets to Sprint's Prepaid Group and MVNOs, as well as to Sprint under the Sanyo brand," said Eiichi Toriyama, president of Kyocera Communications Inc. "We value greatly our relationship with Sprint and we are thrilled that they have chosen Echo as the standout product with which to reintroduce its customers to the Kyocera brand. With Kyocera Echo, we are proud to give Sprint an iconic, industry-changing device that delivers an entirely new experience for smartphone users."
In order to take advantage of the dual-screen display, Kyocera has customized the Google Android mobile operating system, optimizing native applications for browsing, messaging and e-mail, photo viewing, and accessing the phone and contacts. Using VueQue, users can watch a YouTube video on one display while accomplishing tasks on the other. The Echo runs Android 2.2.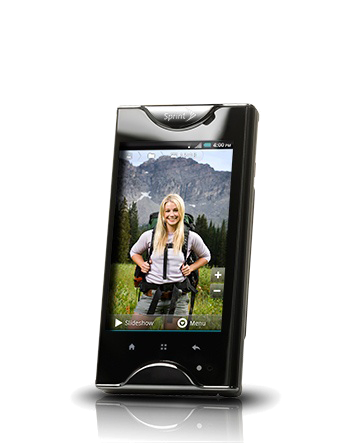 The handset will ship with a spare 137 mAh battery and a low-profile charging cradle, which can also tether the spare battery to the handset to act as an external power supply. Other features of the Echo, according to Sprint and Kyocera, include:
Sprint's nationwide 3G network and Wi-Fi (802.11 b/g)
Wi-Fi hotspot capability, which supports wireless connections for up to five devices
5-megapixel camera with flash, autofocus and digital zoom
720p HD camcorder to quickly capture those on-the-go memorable moments
Corporate (Exchange ActiveSync) and personal (POP & IMAP) e-mail, IM (Google Talk), text messaging
Media player with a 3.5 mm stereo headset jack
Stereo Bluetooth 2.1 (+ EDR)
Full HTML Web browser with Google Search
1GHz Snapdragon processor (QSD 8650 Android)
1 gigabyte (GB) of onboard memory and an 8GB microSD card for the external memory card slot supporting cards up to 32GB
Voice and text prompts in both English and Spanish