Apple exploring all-in-one MagSafe power and data connector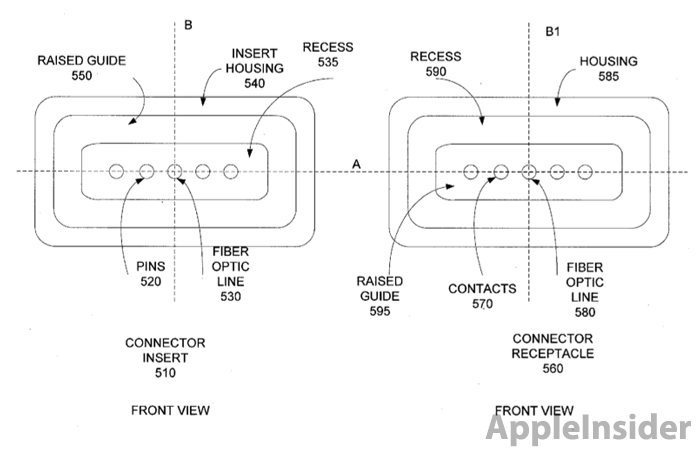 Apple could add an optical signal path to future MagSafe connectors on Macs, allowing the magnetic port to send and receive data, as well as power the device.
The U.S. Patent and Trademark Office this week published a new patent application from Apple named "Magnetic Connector with Optical Signal Path." Discovered by AppleInsider, the document describes a single cable that would provide both power and data to a mobile device, like a MacBook Pro, using a single cable.
Like Apple's existing, patented MagSafe adapters, the new cable would allow for "easy disengagement" due to the use of magnets to attach and properly secure the cable.
Apple's application notes that there are two major needs the portable computers must satisfy if the notebook is to serve as a proper desktop replacement. The first is the need for a power source, since modern batteries often cannot get through an entire workday, while the second is the ability to transfer data over a physical connection.
"Presently, satisfying these two requires at least two connections to the mobile device; one for power and one for data transmission," the application reads. "But including two (or more) connectors increases cost and consume space, typically along the side of the mobile device. It also requires the user to make two separate connections, thus limiting the usefulness and desirability of the mobile computing format."
Apple's filing also notes that the use of two cables can clutter a user's workspace and degrade the mobile computing experience. More cables also increase the likelihood of a user tripping over one and potentially damaging their computer.
"Thus, what is needed are circuits, apparatus, and methods that provide a power and data transfer system that can supply both power and data to a laptop or other mobile computing device," the application states.
Apple's solution would include a fiber optic line inside a connector that looks much like the existing MagSafe power connector found on its line of MacBooks. But it would include additional "pins" inside the connector to allow data transfer for multiple types of inputs.
Potential input methods listed by Apple include USB, fiber-optic, local area networking (LAN) cables, DVI video, and DisplayPort. Corresponding connectors for these devices would be included on the power and data adapter.
In addition, Apple's proposed invention would allow separate external devices to communicate with one another via the power and data adapter. For example, two or more USB devices could communicate with each other and transfer data between one another over the adapter.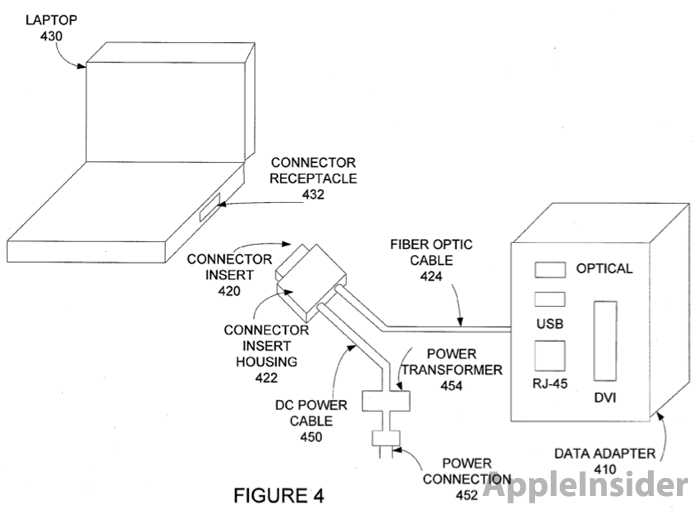 Like a similar patent awarded to Apple last fall, the application revealed this week could offer a glimpse into the company's potential plans with Intel's high-speed Light Peak optical cable technology. Intel aims to offer mobile devices bandwidth of 10Gbps, scaling up to 100GBps over the next decade, with its next-generation cable.
Apple has shown great interest in Light Peak and has been "pushing" the chipmaker to bring it to market. Light Peak would allow Apple to roll networking, display, and peripheral cables all into one master cable, much like is described in the latest patent application.