AT&T reportedly provisions iOS 4.3 beta Personal Hotspot feature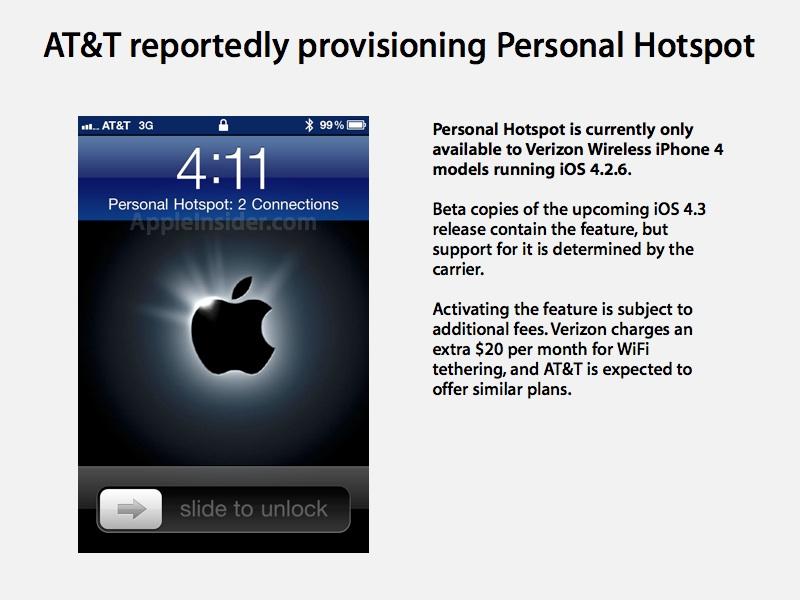 AppleInsider is supported by its audience and may earn commission as an Amazon Associate and affiliate partner on qualifying purchases. These affiliate partnerships do not influence our editorial content.
AT&T has reportedly provisioned the new Personal Hotspot WiFi sharing feature of iOS 4.3 beta 3 for a developer, indicating it will follow Verizon's lead in offering the feature to its subscribers.
Apple added the Personal Hotspot feature in iOS 4.2.6, a build that only runs on the Verizon iPhone 4. It takes advantage of a feature Verizon has long offered that enables multiple WiFi clients to share a phone's mobile 3G connection.
AT&T hasn't committed to supporting the new feature yet, but is expected to in the face of the competitive threat issued by Verizon. Other carriers can choose whether they will support the OS feature.
The individual reporting AT&T's acquiescence in provisioning the feature on his phone running the developer build says the carrier agreed "after I mentioned Verizon a few times."
AT&T similarly balked for months before finally supporting the MMS and Bluetooth tethering features Apple added to iOS 3.0, but could hold up support for those features because it lacked any direct competition in the US. Personal Hotspot is Wi-Fi tethering.
Activating the feature is subject to additional fees. Verizon charges an extra $20 per month for WiFi tethering, and AT&T is expected to offer similar plans