Apple tells some stores to expect 'sealed packages' early this week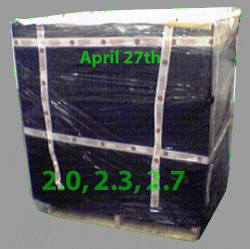 AppleInsider is supported by its audience and may earn commission as an Amazon Associate and affiliate partner on qualifying purchases. These affiliate partnerships do not influence our editorial content.
Evidence that Apple plans to introduce new MacBook Pro notebooks as early as this week continues to mount, with the company reportedly providing some dealers with strict warnings not to breach the integrity of sealed pallet shipments that may begin arriving as early as tomorrow.
More specifically, the Mac maker this weekend began informing some of its larger European resellers that they could expect delivery of sealed product pallets to their brick-and-mortar stores as early as Monday, which coincides with one of ten federal holidays (President's Day) in the United States.
Apple has historically avoided making major product launches on federal holidays, and as such is telling these partners that an official announcement pertaining to the shipments would follow shortly, according to a person familiar with the matter. The same person said that Apple is vocalizing its right to yank reseller licenses from any dealer who tampers with the sealed shipments ahead of that said announcement.
The move underscores the complications Apple faces in attempting to equip its expansive supply chains for major product introductions on the scale of MacBook Pros ahead of formally unveiling such products, especially in the face of sprawling stock-outs on existing models that impede new customer purchases.
As such, the Cupertino-based company has in the past commissioned its freight carriers to provide drop-shipments of new products to its distribution points across the global in the days and hours before an impending announcement, concealing those shipments in black plastic wrap before sealing them further with "Apple Confidential" tape (as can be seen in the below photo of a pallet of unannounced Power Macs back in April of 2005.)
According to those same people briefed on this week's shipments, Apple's major European distributors ran out MacBook Pros near the top of the month, regional resellers have not been able to place new orders for the notebooks for over two weeks, and Apple has not shipped a single unit of its own to the channel during the same period of time.