Inside Mac OS X 10.7 Lion: Yahoo Messenger video and voice in iChat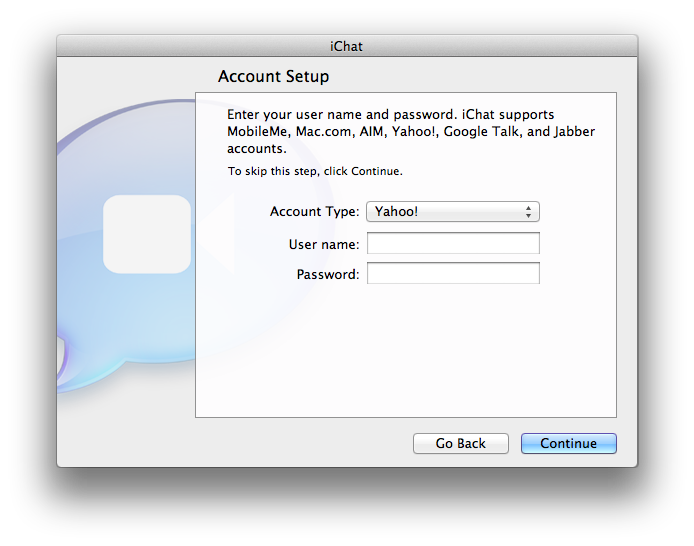 Apple has added support for Yahoo Messenger to Mac OS X Lion's iChat app, reportedly enabling text, voice and video chat over Yahoo's instant messenger protocol.
Apple introduced iChat as an IM client for AOL's proprietary chat protocol, later adding support for Jabber/XMPP, an open IM standard supported by Google Talk and Apple's own iChat Server.
For Lion, Apple has added Yahoo as an account type. Yahoo operates its own proprietary protocol that can't interoperate with AOL or Jabber type accounts.
The other primary chat protocol is Microsoft's Windows Live Messenger, which is also proprietary and does not support cross chat with AOL or Jabber, although Microsoft and Yahoo have created a gateway between their two networks.
News of the new Yahoo client working with video and voice chat was initially reported by blogger iMarck90.
After Android, Apple has increasingly worked to minimize its dependence upon Google as a partner, adding Microsoft's Bing and Yahoo search to Safari on both the desktop and iOS. However, adding new video support to iChat is an interesting addition, given Apple's push to promote FaceTime as its video calling solution.
The company has even renamed its iSight cameras as "FaceTime," and now develops and distributes FaceTime as a standalone app in the Mac App Store, wholly independent from the iChat AV app it bundles as part of Mac OS X.