Inside Mac OS X 10.7 Lion Server: remote lock, disk wipe and administration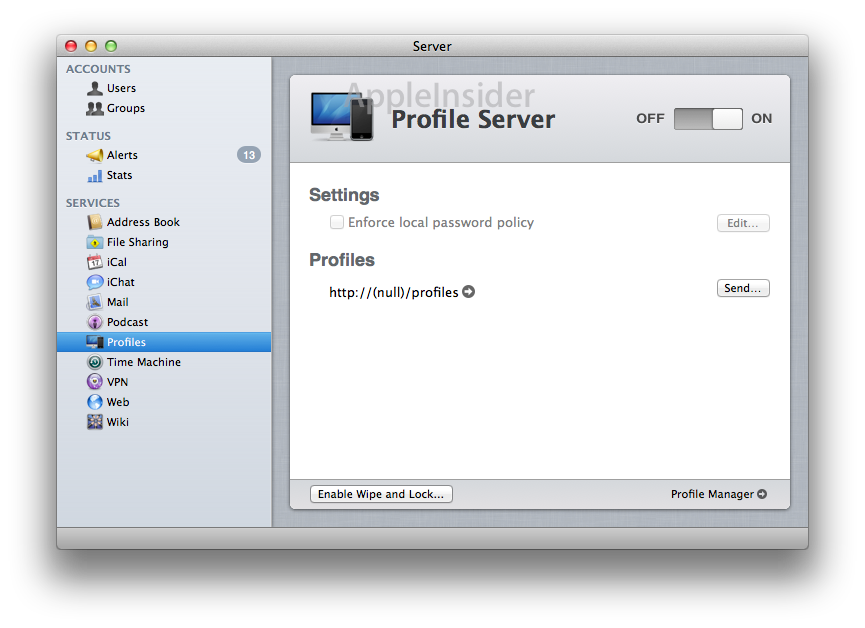 In Mac OS X Lion Server, Apple brings iOS-like remote management features to the Mac, including "Find My Mac," remote wipe, and remote software and profile settings via push notifications.
A related "Find My Mac" feature is rumored to be present on Lion in a developmental status (showing up as the FindMyMacd process), allowing users to remotely locate a missing notebook, for example, just as they can already use to locate an iPod touch, iPhone, or iPad.
A Lion Mac using a File Vault encrypted disk, just like the hardware encrypted iPhone 3GS and later iOS devices, will also facilitate remote wipe features similar to those that are already in place for mobile devices tied to MobileMe, enabling a user who has lost his or her MacBook to remotely destroy its contents before malicious thieves could even attempt to recover data from it.
While Apple hasn't yet officially revealed plans to add remote find/wipe/lock services for Lion Macs in MobileMe, it is clear that such a service will be available to Lion Server administrators, enabling them to remotely wipe or lock devices bound to the organization's Directory Server via Profile Server.
Lion Server Profile Manager for remote configuration
Additionally, the discovery of a new Uninstall.framework indicates that new Profile Server remote management tools (a feature of Lion Server for both Mac and iOS clients) will enable network administrators to remotely manage the software installed and removed on an organizations' machines, in addition to managing profiles (configuration files that are currently used to set up new iOS devices, and will in the future be used to set up Lion Macs).
While some of these tasks (including remote software installation) are already possible using Apple's Remote Desktop, the new web based Profile Manager in Lion Server promises to serve as a powerful remote administration solution that will allow companies to manage their mobile iOS devices and Macs using the same tool.
Apple says that its new Profile Manager "delivers simple, profile-based setup and management for Mac OS X Lion, iPhone, iPad, and iPod touch devices. It also integrates with your existing directory services and delivers automatic over-the-air profile updates using the Apple Push Notification service."
This indicates that the Apple Push Notification service foundation support discovered in Lion is not just used by FaceTime, but will also be used to update configuration information for enterprise users. For example, a company could upgrade its security policy for local WiFi networks and then push this configuration change to all of its iOS and Mac users for immediate installation.