First-gen iPad 'deleted' from Best Buy as Apple's imminent iPad 2 launch looms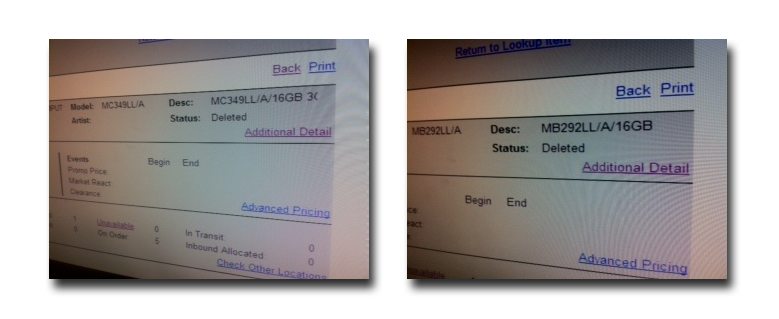 More evidence that Apple plans to surprise with near immediate availability of its second-generation iPad surfaced Tuesday, when it was revealed that retailer Best Buy has listed the first-generation iPad as "deleted" in its inventory.
Photos from Best Buy computers were provided Tuesday to MacRumors. They show that the status of both the 16GB Wi-Fi-only and 3G-capable iPad as "deleted" in the store's inventory system.
Apple is set to introduce its second-generation iPad at a media event on Wednesday. But as exclusively reported by AppleInsider last week, users may not have to wait long to get their hands on the new multi-touch tablet, as people familiar with the company's plans have indicated Apple is preparing for a retail product roll-out later this week.
Constrained supplies and no new shipments to retailers like Best Buy before the second-generation iPad is officially unveiled could be seen as even more evidence of a surprisingly quick introduction of at least one version of the refreshed tablet. That would be in contrast to reports claiming that Apple could be forced to wait until April to sell the device due to alleged supply constraints.
Though the current iPad is marked as "deleted," Best Buy's computer systems are said to not yet have any placeholders for the anticipated iPad 2.
Best Buy's internal inventory system is a hit-or-miss indicator of product information and availability ahead of an announcement. But last month, leaked information from the retailer did accurately reveal the five SKUs and prices for Apple's refreshed MacBook Pro lineup.