JP Morgan: Apple's iPad 2 could cause 'bubble burst' for rival tablets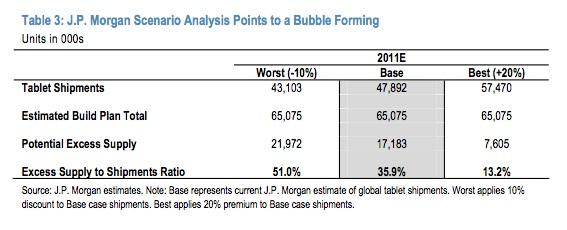 According to one Wall Street analyst, Apple's soon-to-be-released iPad 2 could burst a bubble for competitors who are hoping to capitalize on the growing tablet market but remain unable to catch up.
Analyst Mark Moskowitz of J.P. Morgan Research warned investors early Wednesday that build plans for tablet shipments from Apple's rivals may be too high, presenting "increasing risk of a bubble burst" in the second half of 2011.
"In our view, the technical and form factor improvements of the iPad 2 stand to make it tougher for the first generation of competitive offerings to play catch-up, meaning actual shipments could fall well short of plan," Moskowitz wrote.
Using discounted build plan estimates to project tablet shipments for the year, the analyst claims that tablet makers will build approximately 65.1 million tablets in 2011. When compared against J.P. Morgan's estimates of 47.9 million tablets sold this year, companies could find themselves with as much as 51 percent oversupply in a worst case scenario.
Apple is expected to maintain the lion's share of the tablet market. Moskowitz estimates that Apple could see nearly 100 percent sales growth year over year, resulting in more than 29 million iPads sold worldwide in 2011.
According to Moskowitz, component suppliers could stand the most to lose from a bubble burst. "Based on our research inputs, tablet makers eager to emulate Apple's meteoric start are trying to secure components with inflated build plans," Moskowitz noted. "Of note, glass displays, processors, and, to a lesser extent, NAND Flash are the components that could be most at risk."
Moskowitz has a "favorable view of Apple's products and operating model," but acknowledges that "Apple is not for everyone." However, holdouts hoping for an alternative to Apple's iPad may be "underwhelmed" by rival offerings.
"Aside from Motorola's Xoom and HP's TouchPad (which does not have a price tag yet), the competitive offerings appear to be light on attraction, in our view," said Moskowitz.
J.P. Morgan maintains an Overweight rating on Apple with a price target of $450.
Initial Wall Street response to the unveiling of the iPad 2 last week has been favorable. In general, analysts were impressed by what were seen as "evolutionary" upgrades to the device and the thinner and lighter form factor. At the time, Moskowitz admitted that his firm's forecast of Apple holding 68 percent market share in 2011 "may be conservative" in light of the iPad 2.