Apple accepting donations as AT&T offers free calls to troubled Japan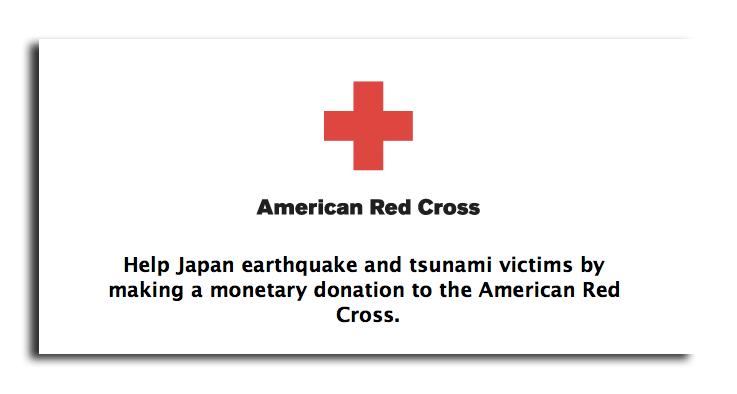 Apple is accepting Red Cross donations through iTunes, and customers of the AT&T network in the U.S. can call or text Japan for free until the end of March, following the deadly earthquake and tsunami that have caused major destruction and a still unknown number of casualties.
Apple began supporting relief efforts over the weekend, with a link to donate on the iTunes Store. Using an iTunes account, users can donate in amounts of $5, $10, $25, $50, $100 and $200.
One-hundred percent of contributions will go to the American Red Cross. Apple will not share personal information with the Red Cross, so the organization will be unable to further acknowledge any donations.
Donations will be acknowledged with an e-mail from the iTunes Store, and the transaction will show up on a credit card as an iTunes Store purchase. iTunes Store credit cannot be used to make a donation.
Apple employed the same service in 2010, following a devastating series of earthquakes in Haiti.
Joining Apple in supporting the nation of Japan after last week's massive earthquake and tsunami is AT&T, one of two carriers of the iPhone in the U.S. AT&T announced on Monday that calls and texts to Japan will be free until the end of March.
The support will extend into last week, effective March 11, and runs through March 31, in an effort to help those who may be trying to reach loved ones from over the Pacific. AT&T wireless postpaid customers will not be charged for international long distance from the U.S. and Puerto Rico to Japan, or text messages to Japan from a U.S. wireless number.
In addition, residential wireline customers can seek credits for up to 60 minutes of direct-dial calling to Japan. Both wireline and wireless customers will either see no charges reflected on their monthly statement, or they will have a full credit applied.
"We want to help our customers connect with loved ones in Japan in anyway we can," said Mark Collins, senior vice president, Voice and Data Products, AT&T Mobility and Consumer Markets. "Connecting with family and friends is most important at times like this- we want to make it as easy and worry free as possible for our customers."
AT&T wireless customers can also text "redcross" to the number 90999 to give a $10 donation to the Red Cross with no text message fees. Customers of AT&T's U-Verse TV will also have free access through March 17 to "TV Japan," the 24-hour Japanese news channel.