Microsoft abandons Zune media players in defeat by Apple's iPod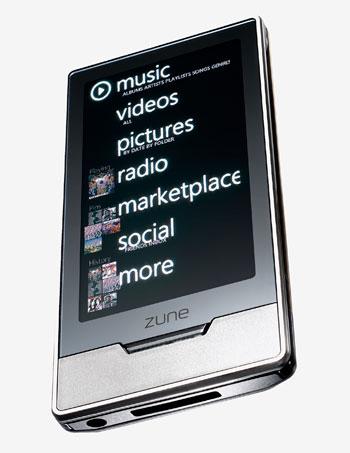 Microsoft's direct effort to challenge Apple's iPod, introduced in 2006 under the Zune brand, is being abandoned after a failure to gain traction in the market.
According to a report by Bloomberg, Microsoft will stop making any new Zune models and shift its focus toward incorporating its music store and subscription software into mobile phones.
The report cited sources who "declined to be identified because the decision hasn't been announced," but noted that Microsoft's Zune-branded players failed to break into the top five US portable digital music players last year, according to data by NPD Group.
Apple's iPod continues to dominate the media player market, with a 77 percent share of the US market and similar market share globally.
In 2006, Microsoft's chief executive Steve Ballmer said of Apple, "we can beat them, but it's not going to be easy," and confirmed the company was going to remain in the market for the long haul, gradually building market share.
The Zune HD (below), introduced in the fall of 2009, expected to make a dent into Apple's iPod touch business by combining an OLED screen, NVIDIA Tegra processor, HD Radio, and a new gaming platform that was supposed to leverage Microsoft's Xbox 360. However, it completely failed to do so, for reasons detailed at the time by AppleInsider.
The company has iterated the same long haul/slow growth strategy in smartphones, where it has dramatically lost market share since the appearance of Apple's iPhone in 2007. Microsoft now faces not just the entrenched competition from Apple's iPhone, but also a shift by many of its former Windows Mobile licensees to Google's free Android operating system.
One of the company's strongest partners, LG, described Microsoft's latest Windows Phone 7 product as being "a bit boring," but also said it views WP7 as having "strong potential," and that it does not want to be dependent upon just one vendor's OS.
LG also noted that carriers are concerned about Android taking too great of a share of the market too, explaining, "there is a need and demand from the operators saying there is too much 'Android' in the portfolio. In that sense LG always tries to balance our portfolio, and that's not just in sense of hardware but OSes as well."
Microsoft recently partnered with Nokia to align the leading phone maker with its own plans for Windows Phone 7. However, Nokia and Microsoft compete in offering music and subscription media, with Nokia's Ovi media store and music subscriptions being a direct rival to Microsoft's efforts to shift its Zune software into the smartphone realm.