T-Mobile gets the iPhone, Apple gets fast new HSPA+ network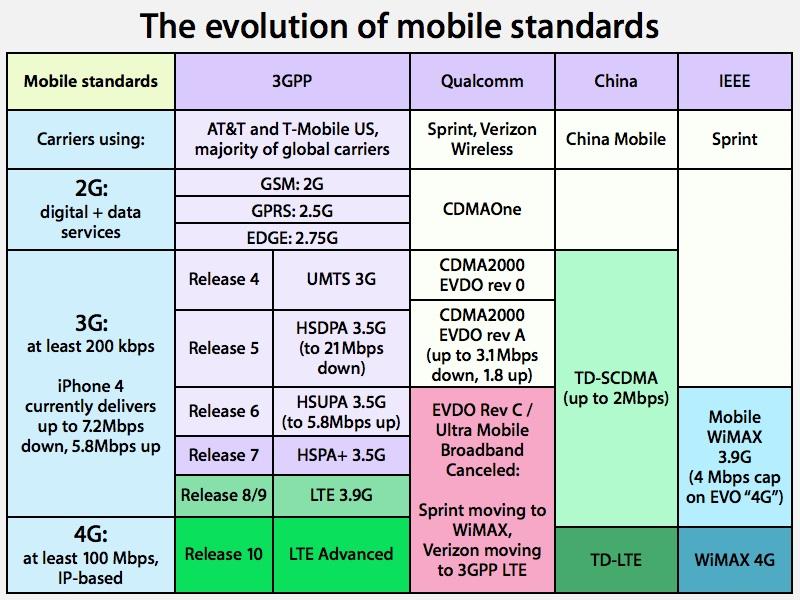 AT&T's $39 billion deal to acquire T-Mobile from Deutsche Telekom will not only create America's largest mobile carrier but also the largest US iPhone carrier by adding 33.7 million T-Mobile subscribers to AT&T's network of about 95.5 million, creating a total of about 130 million users on a network with ultra fast HSPA+ coverage.
The deal will effectively expand Apple's iPhone to three of what were the top four US carriers when it arrived in 2007. Apple already brought its popular smartphone to Verizon earlier this year, leaving Sprint as the only major US carrier without the ability to offer the iPhone.
T-Mobile formerly had "no chance" at getting the iPhone
Deutsche Telekom specifically cited T-Mobile's lack of the iPhone as a reason why the company's US subsidiary's performance was slumping last fall.
The Wall Street Journal noted that "consumers like T-Mobile but they also want to have the iPhone," which at the time the Journal said that T-Mobile USA "has no chance of getting in the short term."
"The U.S. used to be a cash cow for Deutsche Telekom but it has struggled there since 2008 and has been forced to invest more to keep existing customers and attract new ones," the report said.
A fast new network for Apple's iPhone
Deutsche Telekom was an early (and originally an exclusive) iPhone partner for Apple in Europe, but it could not bring the popular smartphone to America for T-Mobile due to radio frequency differences in the firm's US network. T-Mobile's non-standard 3G radio spectrum allocations were granted due to the scarcity of available spectrum.
By selling T-Mobile to AT&T, Deutsche Telekom retains a foothold in the US market while AT&T will greatly bolster its ability to provide improved coverage now. It also accelerates its ability to roll out "4G" HSPA+ technology that Apple's iPhone 5 is expected to support this summer, thanks to new Qualcomm MDM6600 baseband chip already in use in the Verizon iPhone 4 model, which latently supports HSPA+ and will expose functional support in the new AT&T model this summer.
Both AT&T and T-Mobile have already begun building out HSPA+, the latest generation of GSM/3GPP mobile networking supporting data speeds of up to 21Mbps (as some European carriers have been operating for years). Existing AT&T iPhone 4 models support 7Mbps data downloads, and HSPA+ networks can be backwardly compatible with them; new iPhone 5 models are expected to be able to take full advantage of the fast new network.
In comparison, Sprint's WiMAX offers about 10Mbps, while existing AT&T and Verizon 3G service is closer to 1-2Mbps. Verizon's new LTE data network tests at 40-50Mbps in the lab, but real throughput is closer to 5-12Mbps for downloads and uploads of 2-5Mbps. Neither WiMAX nor LTE currently offer significant coverage in the US.
T-Mobile currently offers or plans to offer HSPA+ service in around 100 markets, and has been advertising the service as "4G" in conjunction with the Android-based HTC EVO. With T-Mobile's HSPA+ network now begin rolled into AT&T, it's likely that the combined company will aggressively push its greatly widening speed advantage over Verizon and focus on selling new iPhones.
It remains to be seen how quickly AT&T will be able to leverage its new T-Mobile towers to improve its coverage, how long the combined company will continue to operate T-Mobile's non-standard 3G UMTS frequencies, or whether AT&T will work with hardware makers like Apple to incorporate support for the additional frequency bands.
In a press release, the two companies stated that AT&T and T-Mobile USA customers "will see service improvements - including improved voice quality - as a result of additional spectrum, increased cell tower density and broader network infrastructure," noting that as soon as the deal closes, AT&T "will immediately gain cell sites equivalent to what would have taken on average five years to build without the transaction, and double that in some markets."