Despite Apple suit, Amazon Appstore for Android debuts with free Angry Birds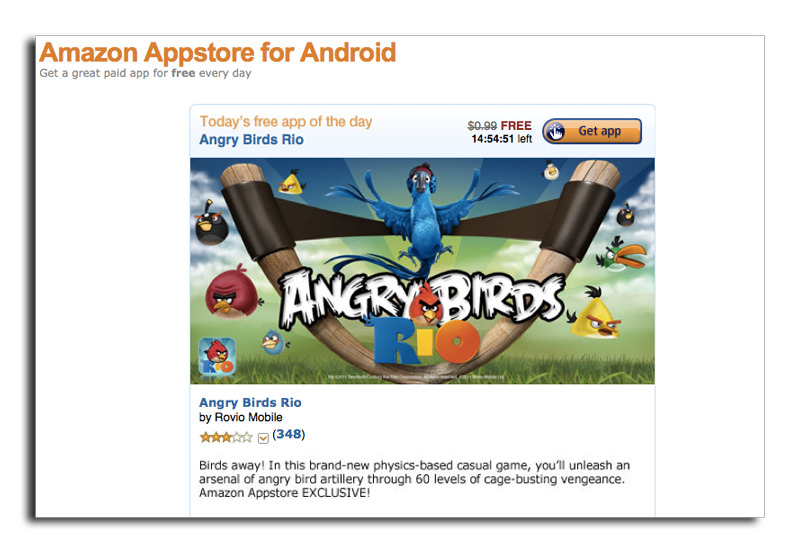 Amazon on Tuesday officially launched its "Appstore for Android," complete with a free copy of the game "Angry Birds Rio," just days after Amazon was hit with a trademark infringement suit from Apple over the "App Store" name.
Amazon launched the digital download service for Android devices as expected, and retained the name "Amazon Appstore for Android." The service can be found at amazon.com/appstore, and it allows customers to find, discover, test and buy Android applications through Amazon's online storefront.
Using their computer and a mouse, customers can try out Android applications before they buy them with the new "Test Drive" feature. It simulates an Android phone to give users the ability to try before they buy.
"Test Drive lets customers truly experience an app before they commit to buying. It is a unique, new way to shop for apps," said Paul Ryder, vice president of electronics for Amazon.com.
"Our customers have told us that the sheer number of apps available can make it hard to find apps that are high quality and relevant to them. We've spent years developing innovative features that help customers discover relevant products. By applying these features - plus new ones like Test Drive - we're aiming to give customers a refreshing app shopping experience."
To help promote the new Android Appstore, Amazon secured an exclusive free launch of the new title "Angry Birds Rio," based on the popular Angry Birds game franchise and featuring characters from the upcoming film "Rio." Amazon has also promised a new paid application for free every day.
Amazon has pushed forward to launch its Amazon store in the face of a new lawsuit from Apple. Filed last week, the complaint accuses Amazon of violating the "App Store" trademark for which Apple has applied.
Apple first applied for the App Store trademark in 2008, shortly after the launch of its digital download service for the iPhone. Since then, the App Store has expanded to the iOS-powered iPad, and the moniker has also extended to the Mac App Store for full-fledged Mac computers.
Apple has argued that the general public associates the word "App Store" with its own line of products, and that Amazon's "Appstore" is too similarly named. U.S. trademark law requires the owner of a mark to vigorously defend its use, or risk losing ownership should it become a generic description.
Apple reportedly contacted Amazon three times to request that they not use the "Amazon Appstore" name, but the online retailer did not comply, as evidenced by Tuesday's official public launch of the service. Apple has argued that the name of Amazon's service will "confuse and mislead customers."