Apple's aluminum strategy aids shift to greener products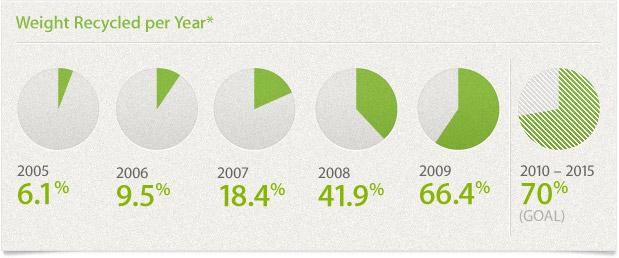 Even as rumors have emerged that the next iPhone could transition back to an aluminum casing, Apple's move toward highly recyclable aluminum cases for its products has contributed significantly to the company's efforts to achieve environmental sustainability.
In 2007, Apple CEO Steve Jobs penned an open letter highlighting changes to the company's environmental policy in hopes of achieving "a greener Apple." In the letter, Jobs specifically noted the Cupertino, Calif., Mac maker's adoption of aircraft-grade aluminum in order to improve recycling uptake.
At the time, Jobs forecast that Apple would increase recycling effectiveness, which is measured by calculating the total weight recycled in a given year divided by the total weight sold seven years prior, from 9.5 percent in 2006 to 28 percent in 2010. The company has been remarkably successful in its efforts, achieving a 66.4 percent recycle rate in 2009 and setting a goal of 70 percent for 2010-2015.
Recycled aluminum requires just 5 percent of the energy needed to produce primary aluminum, while emitting 95 percent less green house gases. According to Klaus Kleinfeld, CEO of aluminum giant Alcoa, the metal is "infinitely recyclable," with 75 percent of all aluminum produced since 1888 still in active use today.
Alcoa sees rapid growth of aluminum in the electronics market, as evidenced by its recent acquisition of a minority stake in Electronics Recycling International, the largest recycler of electronics waste in the U.S. "Consumer electronics represents a fast-growing market for aluminum, with the aluminum content in laptops alone expected to increase 30 per cent by 2013 from a 2010 baseline," said Chief Sustainability Officer Kevin Anton.
Apple popularized aluminum laptops in 2003 with the introduction of the aluminum PowerBook G4. In 2008, the company outdid itself by implementing a custom-developed aluminum unibody enclosure for the release of the MacBook Air and later the MacBook and MacBook Pro. The unibody manufacturing process utilizes "computer numerical control" machines to carve a chassis out of one block of aluminum.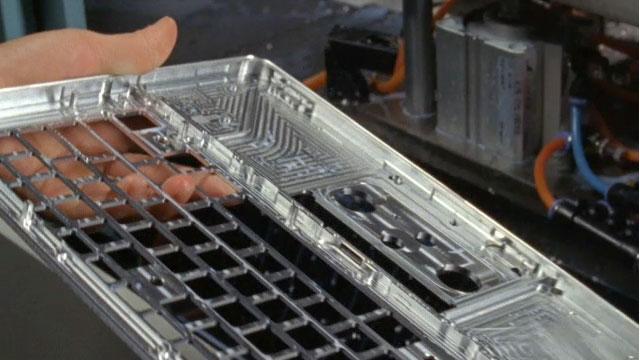 Aluminum has made its way to Apple's post-PC products as well, within an appearance in various versions of the iPod, iPhone and iPad. Apple indicated in its recent Environmental Report for the iPad 2 that the device's aluminum casing is "highly desired by recyclers." Although, interestingly enough, the second-generation tablet requires slightly more aluminum (135 g compared to 125 g) than its predecessor, despite being 15 percent lighter.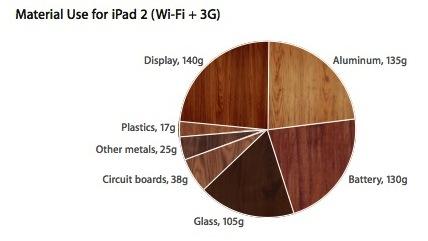 Some reports have speculated that the concurrent release of the white model of the iPad 2 was made possible because its aluminum back does not suffer from the same light leakage issues as the iPhone 4's glass panels. The white iPhone 4 was announced last year, but was delayed by Apple until this spring.
Given Apple's frequent use of aluminum in its products, speculation has emerged that the next-generation iPhone will feature an aluminum back. The original iPhone used an aluminum back, but was phased out in favor of a plastic back on the iPhone 3G and iPhone 3GS.
The iPhone 4 currently sports front and rear glass panels and a stainless steel outer frame that doubles as an antenna. Apple's decision to use the frame as an antenna drew criticism last summer after some users reported dropped calls and reduced signal bars when gripping the phone.