Apple's iPad 2 coming to 500 RadioShack locations starting Tuesday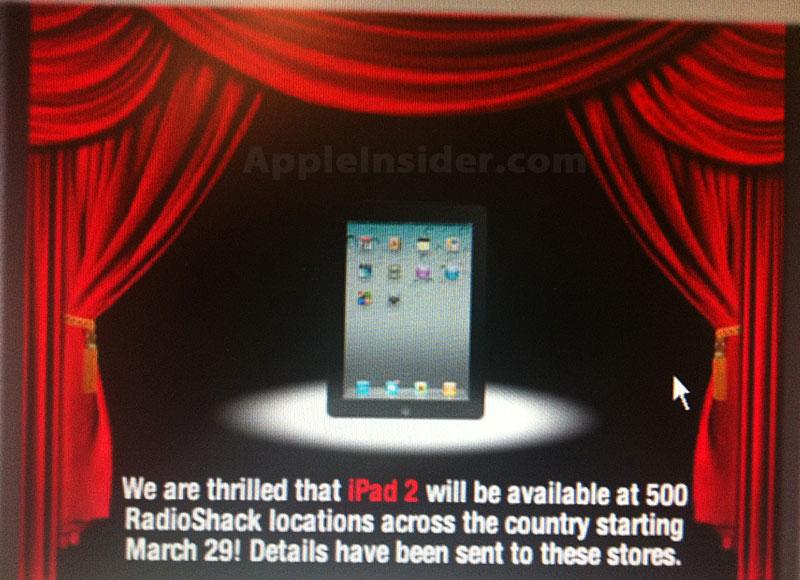 Starting Tuesday, some of the most heavily trafficked RadioShack stores in the U.S. will begin selling the iPad 2, as Apple continues to expand the retail availability of its hot-selling touchscreen tablet.
AppleInsider has confirmed that the iPad 2 will be available at 500 RadioShack stores Tuesday. A corporate memo scarce on details only reveals that the chosen stores have already been informed they will receive the device for sale.
People familiar with the matter told AppleInsider that the deal to sell the iPad 2 at RadioShack was only finalized within the last few days.
The continued retail expansion comes only a few days after Apple launched the iPad 2 overseas in 25 countries. The second-generation iPad first went on sale in the U.S. earlier this month.
Signs of improving iPad 2 inventory came last week, when estimated shipping times from Apple's online store improved to three to four weeks. Previously, new orders were estimated to wait at least a month before shipment.
The iPad 2 has seen strong demand and regular sellouts at stores since it first became available. Apple's launch strategy has also been significantly more aggressive than with the first-generation iPad, which debuted only at Apple's stores and select Best Buy locations.
RadioShack's partnership with Apple expanded last March, when the company began selling the iPhone. The retailer also made waves late last year when it offered discounts on the iPhone, something rarely seen with Apple's rigidly priced handset.