US iPad 2 orders from Apple's online store now ship in 3-4 weeks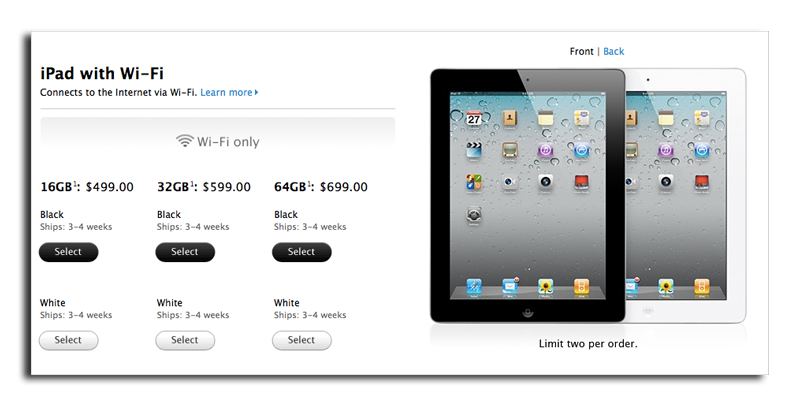 Availability of the iPad 2 has begun to improve, as Apple has eased the estimated ship time to between three and four weeks for new orders through its online store in the U.S.
The new estimated shipping times for U.S. customers are an improvement from the previous estimate of between four and five weeks. But the wait is a little longer than some international orders, which are estimated to ship in two to three weeks.
The shipping improvement is only a week, but it's a sign that Apple is beginning to catch up with strong demand it has faced since the iPad 2 first launched in the U.S. earlier this month. It's also a good sign for the international launch, as there had been some concern that sales in 25 new countries would only exacerbate the problem.
The iPad 2 completely sold out at all retail outlets in the U.S. in its first weekend of availability, and stock has continued to trickle in over the following weeks. But there has also been concern about Apple's stock going forward, following the earthquake disaster in Japan and its potential effect on iPad components.
Last week, a report from the Far East indicated that Apple's manufacturing partner Foxconn had stockpiled enough components to continue to assemble iPad 2 units for at least another two to three weeks. It was said that if the situation in Japan did not improve, Apple could face a stockout of the iPad 2.
But for now those concerns appear to be unfounded, as availability appears to be improving with quicker shipping estimates. In addition, numerous readers have informed AppleInsider that their iPad 2 online order has shipped ahead of schedule.