AT&T increases early upgrade prices for Apple's iPhones by $50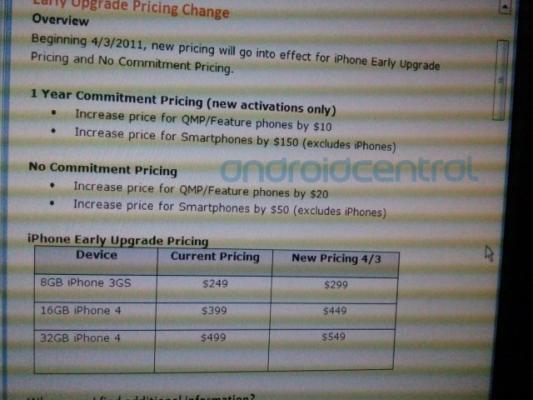 AppleInsider may earn an affiliate commission on purchases made through links on our site.
For AT&T customers looking to upgrade or replace their iPhone before their two-year contract is up, the price of Apple's smartphone has increased by $50 for all models.
Starting this week, early upgrade pricing for the 8GB iPhone 3GS is $299, the 16GB iPhone 4 is $449, and the 32GB iPhone 4 is $549. The pricing changes, first revealed by AndroidCentral, were confirmed Monday to AppleInsider by AT&T.
"We've updated our early upgrade and no commitment price points for smartphones and feature phones," a company spokesman said. "Only customers who are not yet upgrade eligible or who do not want to sign a contract are impacted.
"As mobile devices become more sophisticated, their cost goes up. This change reflects the increased costs, while still allowing us to offer customers the latest device before they qualify. We're happy to discuss individual account and upgrade needs one-on-one with customers."
No-commitment pricing on the iPhone 4 is $599 for the 16GB model, and $699 for 32GB of capacity.
While early upgrades for the iPhone are more expensive, the pricing for other smartphones has also changed. For customers looking to buy a smartphone other than an iPhone, AT&T's one-year commitment pricing has increased by $150 for the cost of a handset. And no-commitment pricing for all smartphones other than the iPhone has also gone up by $50.
Last year, ahead of the iPhone 4 launch, AT&T made any customer with an upgrade date before the end of 2010 eligible for upgrade pricing on Apple's latest handset. That meant that some customers were able to buy the iPhone 4 at the standard $199 for 16GB and $299 for 32GB subsidized pricing up to 6 months early.
While the move allowed customers to upgrade their handset early, it also came with a new two-year contract, ensuring that the carrier would "lock in" customers for the next 24 months unless they were to pay an early termination fee.
Though U.S. iPhone customers must sign a two-year contract with AT&T in order to receive the iPhone at a subsidized price, the wireless carrier frequently offers faster upgrades for its highest paying customers. Those with more services and a higher monthly bill typically are not required to wait the full two years before they become eligible.
AT&T has previously revealed that generally speaking, customers who spend more than $99-a-month per line are eligible for an upgrade between 12 and 18 months into their contract. Several factors play a part in upgrade eligibility, including length of contract and payment history.