Office for Mac 2011 update to add Outlook support for Apple Sync next week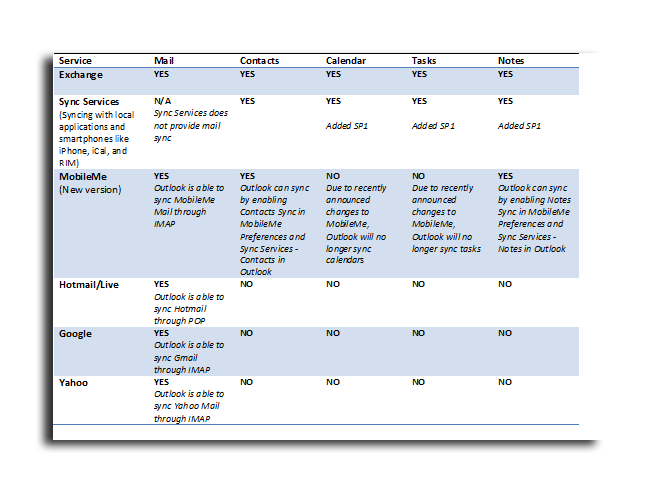 AppleInsider may earn an affiliate commission on purchases made through links on our site.
Microsoft is set to release Service Pack 1 for Office for Mac 2011 next week, bringing the usual fixes, as well as new features and enhancements, including the ability to sync calendar, tasks and notes via Apple's Sync Services.
Microsoft revealed the details of the forthcoming update on the official Office for Mac blog on Wednesday. Pat Fox, senior director of product management for Office for Mac, revealed that SP1 will enable calendar syncing between Outlook for Mac and Apple's Sync Services.
"This will let you sync your Outlook calendar as well as contacts, notes and tasks with any service or device that supports Sync Services, including your iPhone and iPad," Fox wrote. "This has been one of our top feature requests — hopefully this is good news to many of you."
However, Apple also plans to discontinue the use of Mac OS X Sync Services with its subscription MobileMe service starting on May 5 for all users. The change is already in place for users who have already moved their account to the new version of MobileMe calendar, which came out of beta last October.
For Outlook for Mac 2011 users who sync their iOS device with Sync Services via iTunes, calendars will remain up to date. But users who sync their iPhone or iPad calendars with MobileMe will not have them synced to Outlook 2011 with SP1.
Fox also revealed that SP1 will bring Outlook support for Exchange based on server-side rules. A new OUtlook Redirect button will also allow users to redirect a message to the intended recipient while replies will go to the original sender.
Other new additions include an Outlook Resend button, Outlook edit of existing messages, and Solver integration support in Excel. SP1 will also provide increased stability and security.
Office for Mac 2011 was released in October of 2010 and delivered better compatibility with Microsoft's Windows version of Office and corporate server products. It also features a new user interface that's similar to the Ribbon interface found in the Windows version of Office.