Barnes & Noble planning May 24 launch of new e-reader iPad competitor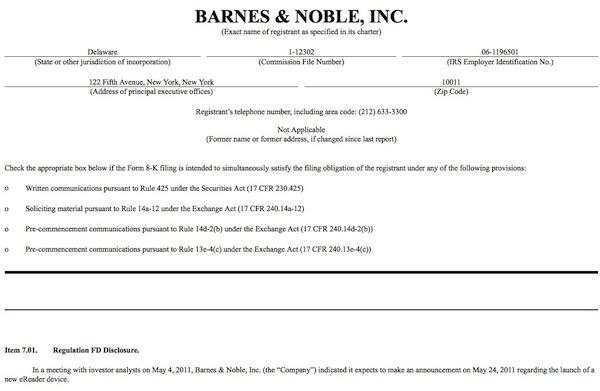 Bookseller Barnes & Noble revealed in an SEC filing Wednesday that the company plans to announce a new e-reader device on May 24th, creating yet another competitor to Apple's iPad.
Barnes & Noble filed Form 8-K with the SEC in compliance with regulations regarding insider trading, Reuters reports. According to the filing, the company "indicated it expects to make an announcement on May 24, 2011 regarding the launch of a new eReader device" in a meeting with investor analysts on Wednesday.
It remains unclear whether the new device will fall under the Nook branding. When the Nook was first released in 2009, it featured an e-ink screen, making it a direct competitor to the Amazon Kindle e-reader. Barnes & Noble appeared to abandon the e-ink-only strategy in favor of challenging the iPad with a more feature-rich tablet when it released the Nook Color last year.
Last week, the $249 Nook Color received a software update to its Google Android operating system that expanded its capabilities to include email, a web browser and games.
Shares of Barnes & Noble jumped over 14 percent on Wednesday to close at $12.01. The company has struggled to adapt to the current climate; its stock has dropped 40 percent since this time last year. In February, the bookseller suspended its quarterly dividend payment in order to gain the "financial flexibility" needed to invest heavily in the digital content market and the Nook.
"We intend for Barnes & Noble to be a leader in the exploding market for digital content," Chief Executive William Lynch said at the time, while estimating that his company held 25 percent of the U.S. e-book market.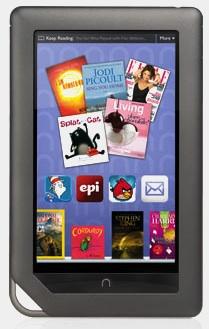 Though rival Amazon CEO Jeff Bezos has repeatedly insisted that the company's focus is on building an e-reader and not a tablet, recent reports suggest that Amazon may be preparing a tablet device for release later this year. In March, some iOS developers reported that Amazon was courting them to port their apps to the Kindle platform.
Amazon has lowered prices on the Kindle to distance it from the iPad. Bezos announced late last year that many Kindle purchasers already own the iPad. The Kindle's price may have bottomed out, however, as analysts believe Amazon was unable to reach the $99 tipping point for the recently announced ad-supported Kindle, electing instead for the unusual price of $114.