Barnes & Noble Nook, Lenovo ThinkPad prepare second volley of iPad alternatives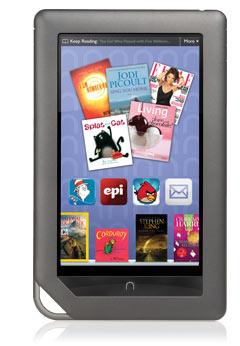 AppleInsider is supported by its audience and may earn commission as an Amazon Associate and affiliate partner on qualifying purchases. These affiliate partnerships do not influence our editorial content.
After the much anticipated Motorola Xoom and RIM PlayBook failed to live up to expectations, two new Android-based tablets have promised to keep alive alternatives to Apple's iPad: The Barnes & Noble Nook Color and a prototype ThinkPad tablet from Lenovo.
Nook Color takes aim at the low end with $249 device
The B&N Nook Color is not new, but the dedicated ebook reader is getting a software update that will expand its capabilities from just reading books to potentially running a variety of specialized apps, including email, a web browser incorporating supper for Adobe Flash, and games including Angry Birds and Chess.
The software update is based on Android 2.2 Froyo, which was released last summer and was used by the similarly sized Samsung Galaxy Tab. Unlike other tablet devices, the Nook is available for just $250, making it among the least expensive tablet-sized devices, and about half the price of iPad 2.
The Nook is powered by a 1GHz CPU, has 8GB of storage, lacks 3G and uses a 7 inch screen, allowing it to hit a price target much lower than other tablet offerings. It won't, however, upgrade to Android 3.0, the version Google developed specifically for tablets. And unlike the Galaxy Tab, it won't run most standard Android smartphone apps. Instead, it will require specially modified apps that will be available in a curated market run by B&N.
Nook users previously had to crack the device to run Android apps, as B&N originally slated the product to work only as a book reader and resisted attempts by users to adapt it as a general purpose tablet. With few other competitors successfully targeting the lower end target market, and Nook facing entrenched competition as an ereader from Amazon's Kindle, B&N likely hopes to position the Nook to take over the entry level tablet market for users with limited needs.
In that role, the Nook may find new competition from Amazon, which has been rumored to be working on similarly expanding the capabilities of its Kindle product line to include third party apps and a color screen.
Lenovo aims at high end with $499 ThinkPad tablet
Lenovo, meanwhile, had put together plans leaked by ThisIsMyNext, which describe an Android 3.0 tablet with specs similar to the Xoom: a Tegra 2 CPU, 16, 32 or 64 GB of storage, a 10.1 inch 1280x800 wide screen display, and both 3G and 4G wireless options. The tablet will also include a stylus.
While the document obtained by the site is marked as being "confidential copyright 2009," the report notes that this must be an error because Android 3.0 was not announced until last year. "Our source tells us that Lenovo's been spending lots of time getting the software just right and that these slides are a few months old," the report stated, "which means the interface may change by the time it hits the market."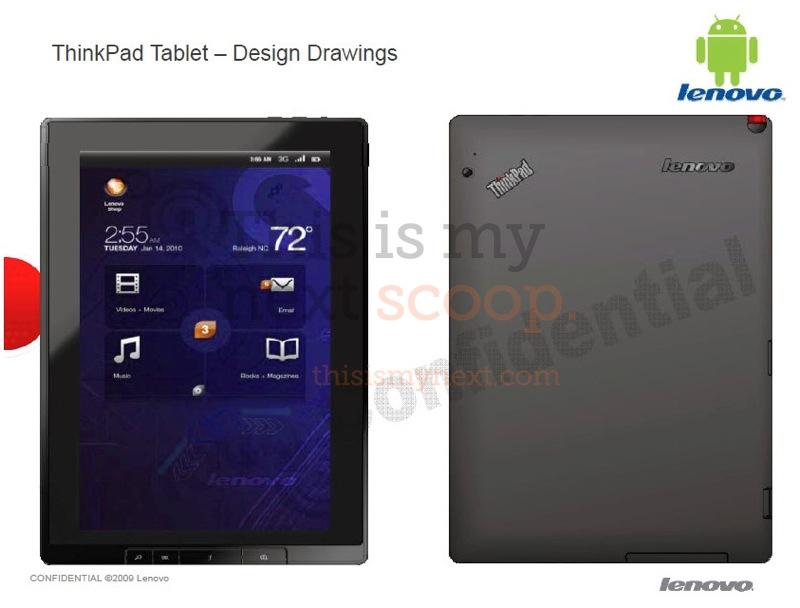 Distinguishing Lenovo's tablet from Motorola's ill fated Xoom is the fact that the company produces popular laptops already, and has built a growing share of the PC market worldwide.
Like Motorola's Atrix smartphone, the tablet is designed to fit into a notebook-like keyboard tray that would appear to convert it into a notebook form factor, albeit still running the touch-centric Android. There is no detail on how much Lenovo's keyboard folio costs, but Motorola's was a pricey $500 option.
Lenovo's internal documents cite relationships with enterprise customers and technology partners, experience in developing IT software tools, its reputation for reliable corporate IT hardware, and commitment to the Android platform as advantages for the company entering the tablet market.
Advantages of using Google's Android are described as levering its great user experience, large ecosystem and app store, trusted cloud computing platform, and reputation for innovation and quality.