Mac OS X 10.7 Lion to support 450 Mbps WiFi on 2011 Thunderbolt MacBook Pro, iMacs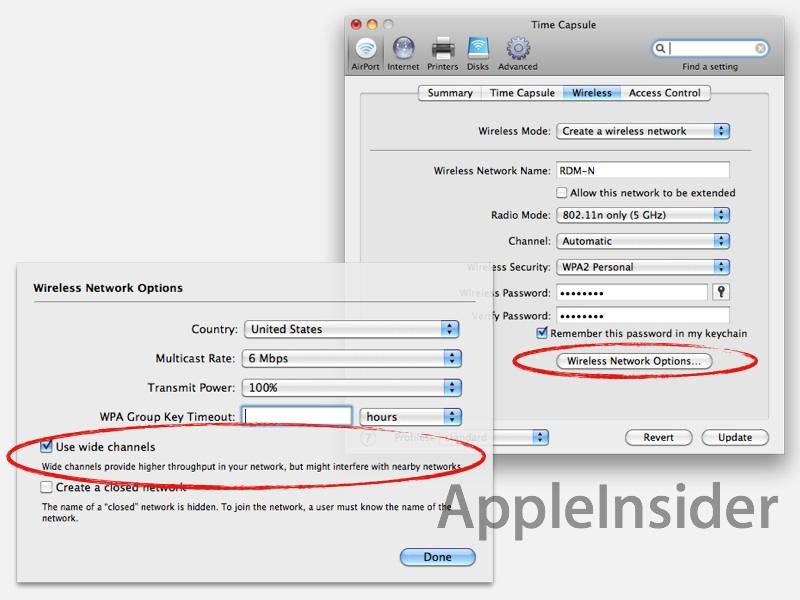 Mac OS X 10.7 Lion will unlock the latent capacity of recently released Thunderbolt MacBook Pro and iMac systems to use faster 450 Mbps 802.11n wireless networking, thanks to triple send and receive antennas capable of supporting three spacial streams of wireless traffic.
Inside 802.11n wireless networking
The 802.11n WiFi standard supports faster networking speeds through a number of technologies, including the use of multiple antennas (aka "MIMO" or multiple-input multiple-output).
Devices and wireless base stations supporting 802.11n can use multiple antennas (up to four each for send and receive) to spatially multiplex multiple independent data streams within one spectral channel of bandwidth enabling faster data throughput, a major factor of why the relatively new 802.11n is faster than previous 802.11 a/b/g wireless networks.
The 802.11n standard also supports the less-utilized (but higher frequency and therefore weaker wall penetrating) 5GHz frequency band, which was previously only tapped by 802.11a devices in corporate networks; 802.11b/g standards both only use the (often heavily saturated) 2.4GHz frequency band, potentially suffering from interference with neighboring wireless networks or Bluetooth devices.
New 802.11n networks can also speed up data transfers by using wide, 40MHz bandwidth channels to double the amount of radio spectrum used. Apple's Airport base stations only support wide channels when configured to work as "802.11n only (5GHz)" networks. The option is hidden behind the "Wireless Network Options" button.
However, 802.11n devices don't have to necessarily support a minimum number of antennas, 5GHz networks, nor wide channels. The features a device can support is represented by its 802.11n Modulation and Coding Scheme (MCS) index (outlined below, from Wikipedia).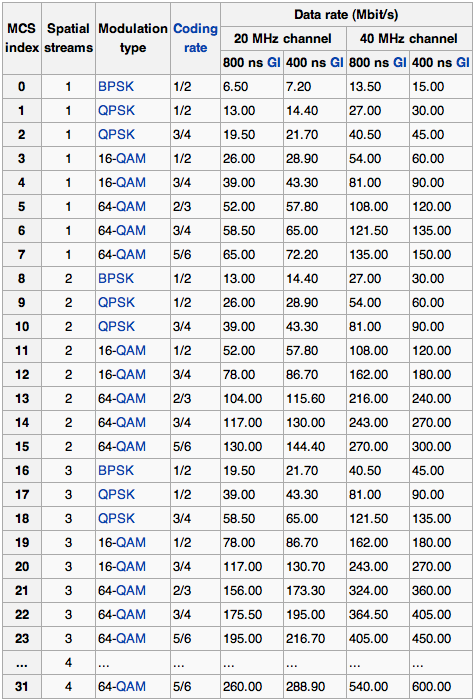 MCS is reported by Mac OS X clients in the AirPort menu when holding down the Option key. This index number can scale down depending on signal strength and interference, but its top limit is bound by the features of the hardware on the client and the network's base station.
For example, iPhone 4 is 802.11n but lacks support for 5GHz and wide channels, limiting it to 802.11n networks configured to use 2.4GHz. The iPad, in contrast, can see and connect to "802.11n only (5GHz)" wireless networks. However, the iPad can still only support one spatial stream using a 20MHz channel because, like the iPhone, it lacks multiple "MIMO" antennas (due to battery life, cost and complexity constraints, as each antenna also requires radio support as well).
This limits Apple's iPhone 4 and iPad to an MCS index of 7, with a top throughput rate of 65 Mbps. Earlier 802.11b/g devices (including older iPhones) can only support a maximum data rate of 54 Mbps. The iPad, unlike iPhone 4, can also make use of 5GHz networks, which may enable for less interference from neighboring wireless traffic but does not raise its MCS index.
All Macs supporting 802.11n have multiple antennas and can therefore support two spacial streams, allowing them to achieve an MCS of 15 and a top data rate of 130 Mbps on 2.4GHz networks. Unlike iOS devices, Macs can also handle wide 40MHz channels in the 5GHz band, enabling a doubled data throughput of 300 Mbps when connecting to a "802.11n only (5GHz)" network configured to support wide channels.
New Macs exceed 802.11 baseline certification to support 450 Mbps WiFi
This year, Apple began incorporating three send and receive antennas in its Thunderbolt-equipped MacBook Pro and iMacs, enabling them to achieve an MCS of 23 and a top data rate of 450 Mbps on 5GHz networks with wide channels. This new capability goes beyond the baseline certification of 802.11n as defined by the Wi-Fi Alliance, which maxes out at 300 Mbps
While not currently supported by Mac OS X Snow Leopard, a developer has reported to AppleInsider that the developer preview of Lion does indicate support for the new hardware when used with modern base stations such as Airport Extreme or Time Capsule.
The developer tested a MacBook Pro using a 2.3GHz Core i5, and reported an MCS of 23 with a transmit rate of 450 using a 5GHz network hosted by Airport Extreme. Previous machines are only able to achieve MCS 15.