Adobe Flash 10.3 adds auto-update notification for Apple's Mac OS X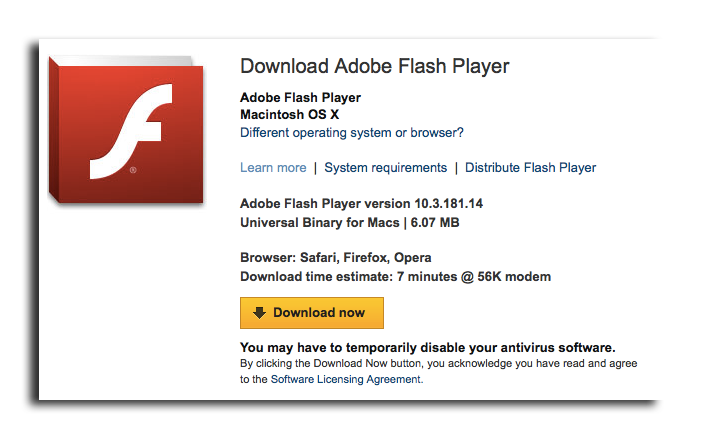 AppleInsider is supported by its audience and may earn commission as an Amazon Associate and affiliate partner on qualifying purchases. These affiliate partnerships do not influence our editorial content.
Adobe this week updated its Flash Player to version 10.3, bringing security enhancements, including the support for auto-update notifications in Apple's Mac OS X operating system.
The latest update fixes vulnerabilities found in Adobe Flash Player 10.2.159.1 and earlier which can cause the software to crash and potentially allow an attacker to take control of the affected system. In addition to Mac OS X, Flash Player 10.3 is available for Windows, Android, and Linux.
"In the past, Mac users often had trouble keeping up with Flash Player updates since the Mac OS and Flash Player ship schedules are not in sync," Adobe employees Peleus Uhley and Lindsey Wegrzyn wrote in an official blog post. "With this new feature, Flash Player will automatically check each week for new updates and notify the user when new updates are available. This feature matches the auto-update notification capability previously implemented on Microsoft Windows."
In addition to automatic update notifications, users will also be able to more easily clear locally saved files, also known as "Flash cookies," within a browser's privacy settings. The latest version also adds the ability to natively access streamlined controls for privacy, security and storage settings in any platform's local control panel. On a Mac, this can be found in System Preferences.
Other features of the update, according to Adobe, include:
Media measurement (desktop only) – Measuring video usage just got easier. Using Adobe SiteCatalyst with Flash Player 10.3, developers can implement video analytics for websites with as little as two lines of code for the first time. Media Measurement for Flash Player allows companies to get real-time, aggregated reporting of how their video content is distributed, what their audience reach is, and how much video is played. Mobile support will be available in an upcoming release.
Acoustic echo cancellation (desktop only) – With Flash Player 10.3, developers can create real-time online collaboration experiences with high-quality audio for telephony, in-game voice chat, and group conferencing applications. Developers can take advantage of acoustic echo cancellation, noise suppression, voice activity detection, and automatic compensation for various microphone input levels. End users will be able to experience higher quality audio facilitating smoother conversation flow, without using a headset.
The security of Flash has been a sticking point for Apple in an ongoing feud with Adobe, as the Cupertino, Calif., company has refused to allow Flash onto its iOS-based devices like the iPhone. Last October, Apple took the issue one step further and began shipping its Macs without Flash preinstalled.
Apple justified the change by stating that the move ensures that users will install the most up to date version of Flash when they set up their Mac. The company also revealed that Flash was responsible for more than half of the security vulnerabilities in Mac OS X.