Purported fifth-gen iPhone case shows edge-to-edge screen, camera flash shift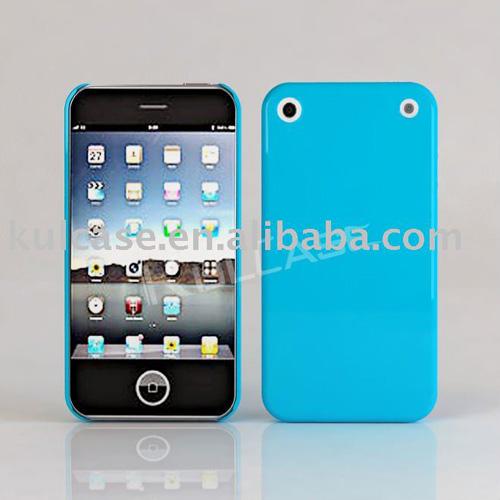 AppleInsider may earn an affiliate commission on purchases made through links on our site.
An alleged case for the iPhone '5g' on a Chinese trading website depicts an edge-to-edge screen with the rear camera flash moved to the opposite corner from the camera.
Guangdong, China-based Kulcase is listing an alleged "Newest design crystal case for Apple iPhone 5g" on the company's Alibaba.com site, MacNN reports. Alibaba.com serves as an international business-to-business trading site and has been the source for a number of Apple product leaks in the past.
A mockup of front of the so-called iPhone 5g shows an edge-to-edge screen, while the rear view of the case shows that the flash component has been moved to the top-right corner away from the camera.
While the mockup should, of course, be taken with a grain of salt, case manufacturers in the past have obtained insider information regarding Apple's design specifications ahead of official product announcements. In March, three employees from Apple partner Foxconn were formally charged with violating trade secrets for allegedly leaking the design of the iPad 2 to third-party accessory makers.
Cases accurately matching the design of the iPad 2 surfaced last December, several months before Apple's unveiling of the device. After the accuracy of the cases caused Foxconn to suspect that the designs had been leaked, it contacted local police to investigate the matter.
The case design appears to track with recent reports regarding an edge-to-edge screen for the next-generation iPhone, though it's also possible that the mockup is itself based on publicly available rumors. In March, unverified engineering drawings depicting an iPhone with a larger screen surfaced.
In April, a photo of an alleged prototype iPhone with an edge-to-edge displayed appeared, though some reports have dismissed the photo as a fake.
Other reports have suggested that Apple will release an iPhone '4S' in September with relatively minor modifications, such as a transition to the A5 chip used in the iPad 2. On Friday, one analyst asserted that the fifth-generation iPhone will arrive in September, featuring "minor cosmetic changes, better cameras, A5 dual-core processor, and HSPA+ support." Various sources have suggested that Apple will miss its traditional summer launch of a new iPhone, instead releasing a new device in the fall.