Lawsuit accuses Apple of violating patented Wi-Fi antenna designs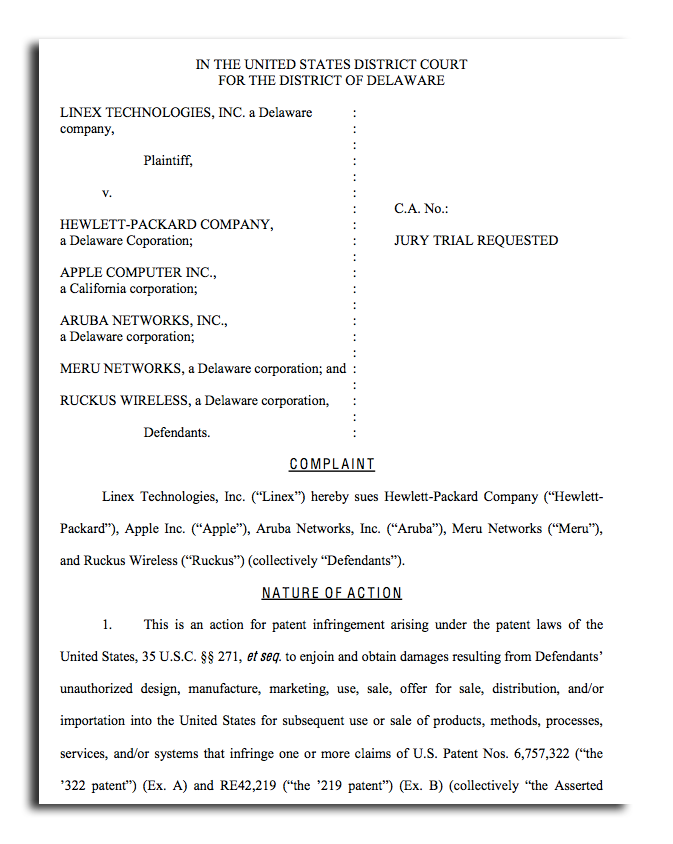 AppleInsider is supported by its audience and may earn commission as an Amazon Associate and affiliate partner on qualifying purchases. These affiliate partnerships do not influence our editorial content.
The latest patent infringement lawsuit against Apple takes issue with Wi-Fi-enabled products, including the company's entire MacBook lineup.
The complaint filed by Linex Technologies accuses Apple of violating two patents related to design and implementation of antennas: U.S. Patent No. 6,757,322, entitled "Space diversity and coding, spectrum antenna and method;" and U.S. Patent No. RE 42,219, named "Multiple-input multiple-output (MIMO) spread spectrum system and method."
Both applications refer to a plurality of signals sent and received wirelessly with a number of antennas. The accused Apple products cited in the complaint are the MacBook, MacBook Air, MacBook Pro, AirPort Extreme, and Time Capsule.
"Defendants' Accused Products infringe the asserted claims by receiving and processing multiple spatial streams using multiple receive antennas," the complaint reads. "The infringing MIMO mode is described in, for example, Table 20-30 and related portions of the IEEE 802.11n standard."
Apple is not alone in the complaint from Linex, as rival PC maker Hewlett-Packard is also listed as a defendant. Wireless HP products named in the complaint include a variety of PCs, servers, and the MediaSmart LCD HDTV.
Other defendants in the case are Aruba Networks, Meru Networks, and Ruckus Wireless. The complaint was filed earlier this month in the U.S. District Court in Delaware.
Linex has asked the court to cease the sale of what it believes are infringing products. It also seeks damages for alleged violation of the '322 and '219 patents.
Linex Technologies is based in Palm Beach Gardens, Fla. Its director and president, Donald L. Schilling, is the sole inventor credited with both the '219 and '322 patents.