Amazon takes on Apple's Mac App Store with its own 'Mac Download Store'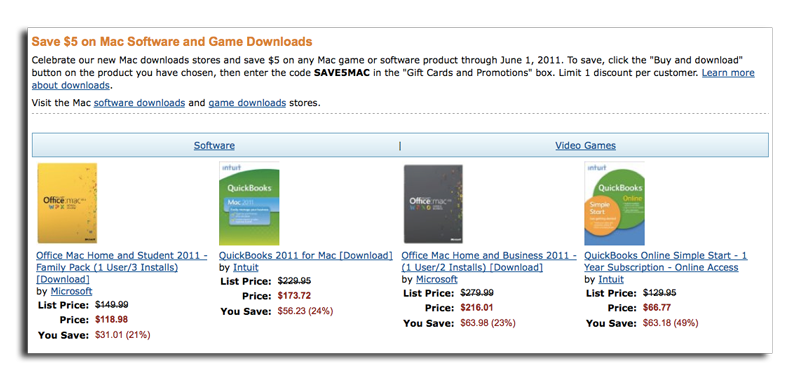 AppleInsider is supported by its audience and may earn commission as an Amazon Associate and affiliate partner on qualifying purchases. These affiliate partnerships do not influence our editorial content.
Amazon on Thursday launched the "Mac Download Store," a new software destination for Mac OS X system that takes on Apple's own App Store by offering unique products, including Office for Mac.
Amazon's new Mac Download Store launched Thursday with more than 250 titles, including software related to productivity, finance and games, as noted by The Loop. The new digital storefront even offers applications that are not found in Apple's Mac App Store, including the Office for Mac suite.
"Mac Download store features an install-less download process where the customer gets just the product without any unwanted extras, making for faster and easier purchases," Amazon said, promoting the new service. "Plus, downloads are conveniently backed up in your Games and Software Library where you can download an unlimited number of times for personal use."
In addition to Office, titles available on the Mac Download StoreMac Download Store include QuickBooks, H&R Block, Roxio Toast 10 Titanium, BioShock, and Call of Duty 4: Modern Warfare. Amazon is also offering a $5 discount on software purchased through the store through June 1 with the code "SAVE5MAC."
The storefront stands in opposition to Apple's own Mac App Store, which is currently available for users of Mac OS X 10.6.6 Snow Leopard and later versions. The Mac App Store will also be an integral part of Apple's forthcoming operating system update, Mac OS X 10.7 Lion.
Amazon's new storefront is similar to the approach the retailer took with its own "Appstore for Android," which launched in March. Though the Appstore for Android, Amazon sells applications for Android-powered mobile devices, and competes with Google's own official Android Market.
Amazon has been very aggressive against its competitors with low prices, sometimes at a loss to bring in customers and generate interest. This week, Amazon sold Lady Gaga's new album "Born This Way" for just 99 cents in an effort to push its own Cloud Drive music streaming service, and take sales away from Apple's market-leading iTunes Music Store.