Videophone patent owner accuses Apple of infringement with iPhone, iTunes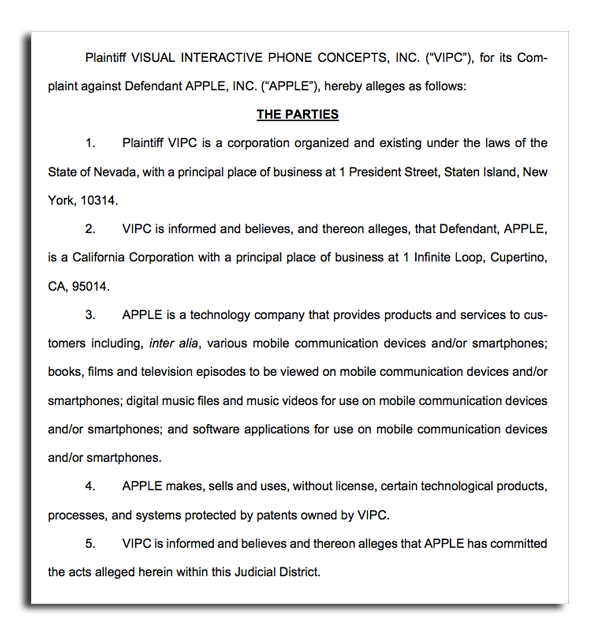 Apple is the target of a new patent infringement lawsuit that accuses the iPhone of offering e-commerce services without the proper licensing agreements.
Patent-holder Visual Interactive Phone Concepts Inc. filed lawsuits against Apple, AT&T and U.S. Cellular in U.S. District Court in Michigan this week. The complaints, first discovered by Florian Mueller of Foss Patents, are based on U.S. Patent Nos. 5,606,361 and 5,724,092, both entitled "Videophone interactive mailbox facility system and method of processing information."
VIPC's suit notes that Apple offers "an application service for users to view, download and use applications on their videophones" through a central data center. Specifically cited in the complaint are the iTunes Store and the iBookstore.
Through these digital storefronts, VIPC argues that Apple "has knowingly, intentionally and willfully infringed" on the '361 and '092 patent. The plaintiff asserts that Apple infringed on these patents without proper license or authorization necessary from VIPC.
VIPC has asked the court to award damages, as well as a "reasonable royalty" in exchange for the alleged patent infringement. The patents included in the suit were granted by the U.S. Patent and Trademark Office in 1997 and 1998.
"While they are relatively old, those patents aren't the kind of long-dormant patents asserted by many other trolls," Mueller wrote in his personal assessment of the lawsuit. "Visual Interactive Phone Systems already sued two companies back in 1999 (Big Planet. Inc. and Infogear Technology Corp.), and also sued Leap Wireless, Inc. in 2007.
"Those lawsuits were settled, most likely with the net effect of Visual Interactive Phone Systems receiving significant payments."
The lawsuit also includes AT&T, which is accused of infringing on the '361 and '092 patents with "a mobile TV and video service" that allows users to purchase and view content on their "videophones." U.S. Cellular is also accused of offering a service similar to AT&T.