Developer build of OS X 10.6.8 preps for Mac App Store install for Lion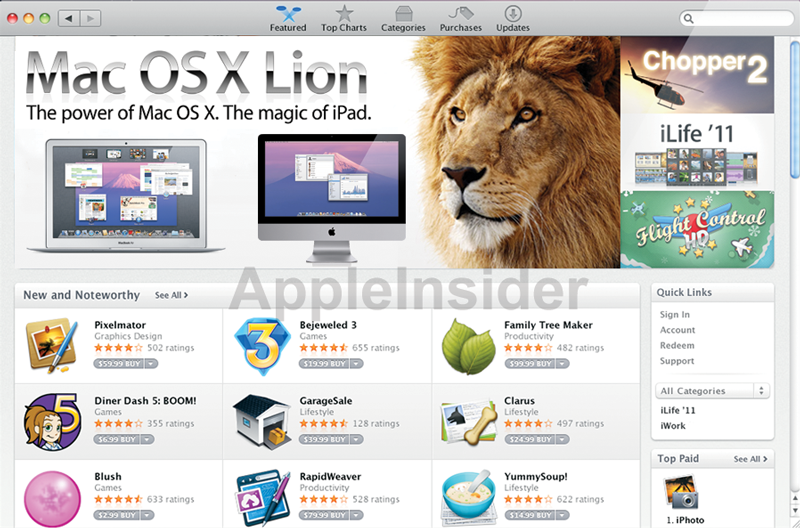 AppleInsider may earn an affiliate commission on purchases made through links on our site.
Newly surfaced details from a developer build of Mac OS X 10.6.8 provide more evidence that Apple plans to release Mac OS X 10.7 Lion through the Mac App Store.
Developer notes accompanying the third developer build of Mac OS X 10.6.8 note that the beta includes fixes that "enhance the Mac App Store to get your Mac ready to upgrade to Mac OS X Lion," fscklog (via Google Translate) reported over the weekend. Apple seeded the latest build of OS X 10.6.8 on Friday with no known issues.
AppleInsider exclusively reported earlier this month that Apple was planning to utilize the Mac App Store to distribute the next major upgrade to its desktop OS. Sources indicated that the Mac App Store would be the main delivery method for Mac OS X 10.7 Lion, though an optical disc is also expected to be offered to customers who are unable to access the online store.
Apple already issues its developer previews of Lion via the Mac App Store by providing developers with a redemption code.
Mac OS X 10.6.8 will also contain fixes for the MAC Defender malware scam, according to people familiar with the matter. The malicious software was first discovered by a security researcher in early May. Last week, Apple posted a support document with instructions on how to remove the malware, promising that an upcoming update to Mac OS X would find and remove the offending software.
Additional changes in version 10.6.8 include the resolution of an issue that may cause Preview to quit unexpectedly, improved support for IPV6 and improved VPN reliability.

Apple will unveil the "future of Mac OS" at the Worldwide Developers Conference next week. The sold-out conference will take place from June 6 to June 9 at San Francisco's Moscone West. Mac OS X 10.7 Lion is scheduled for release this summer.