Inside Apple's iOS 5: Reminders app offers location-aware to-do lists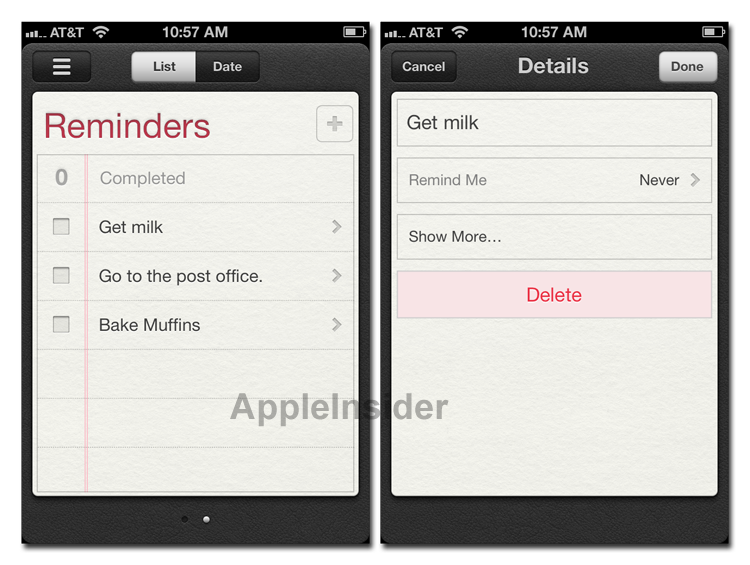 One new application in iOS 5 is Reminders, a location-based organization tool that aims to offer improved to-do lists that are compatible with iCal, Outlook and iCloud.
Reminders offers to-do lists with due dates and locations. The location-based alerts can issue an alert when arriving at a location; for example, reminding a user to buy milk when they arrive at the grocery store.
On both iPhone and iPad, reminders can be viewed in either a list or date format. On the iPad, choosing the date format provides view that features a calendar on the left side of the screen, with a list of to-do items on the right. Reminders can also be searched from within the application.
As items are completed, they can be checked on the left side. A tally of completed items then adds up at the top of the list, and these are dynamically updated with other services, including iCal and Outlook.
Hitting the plus in the upper right of the screen allows users to add items to a to-do list. Once a reminder is created, custom options are available, including location awareness, and whether to alert the user when they arrive or when they leave.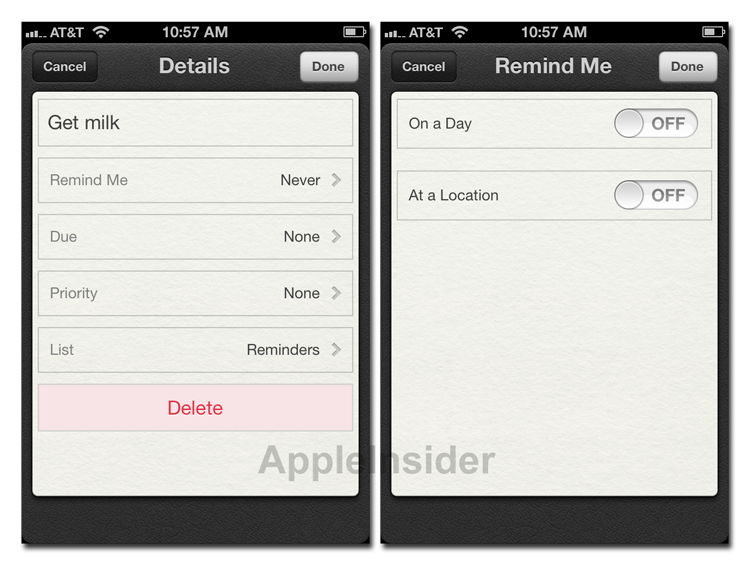 Options include "Remind Me," "Due," "Priority," "List," and "Delete." Reminders can also be tied to a day, or to a specific location. They can also be repeated daily, weekly, every two weeks, every month, or every year, and ranked with priorities of low, medium or high.
Setting a reminder based on location prompts users to allow the Reminders app to use a location — either their current one, or an address manually entered. Users must approve the ability for the iPhone to track their location and provide a reminder.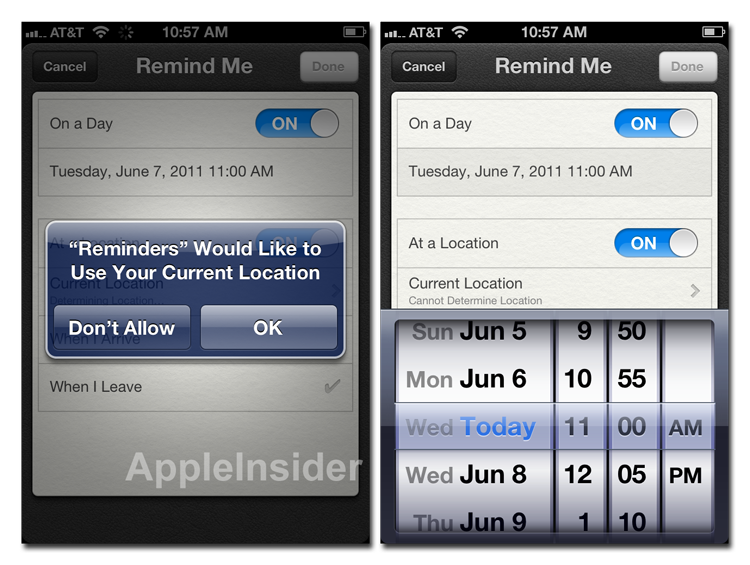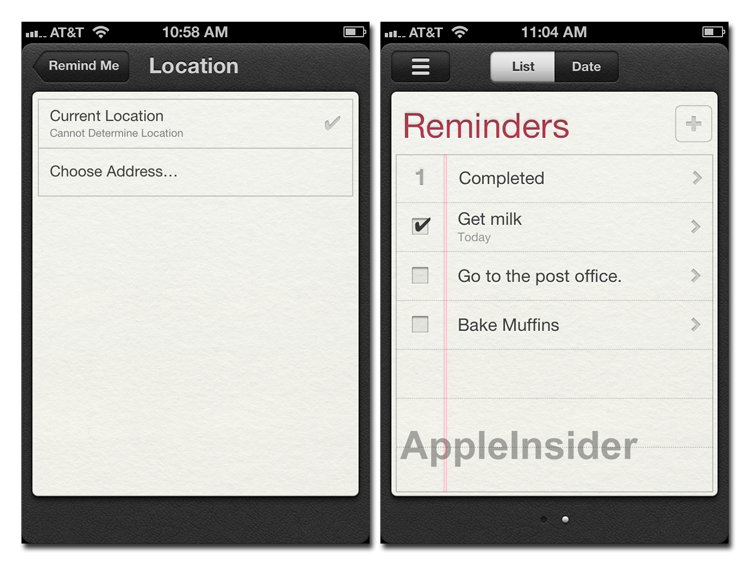 Reminders can then provide alerts to the user when they arrive near a destination, and take full advantage of Apple's new notification system in iOS 5. With this feature, reminders will show up on the lock screen, or are available from the pull-down notification menu.
When users access the new notification menu, to-dos are listed under a special "Reminders" heading. This heading can be closed by tapping an 'X' to the right side of the screen.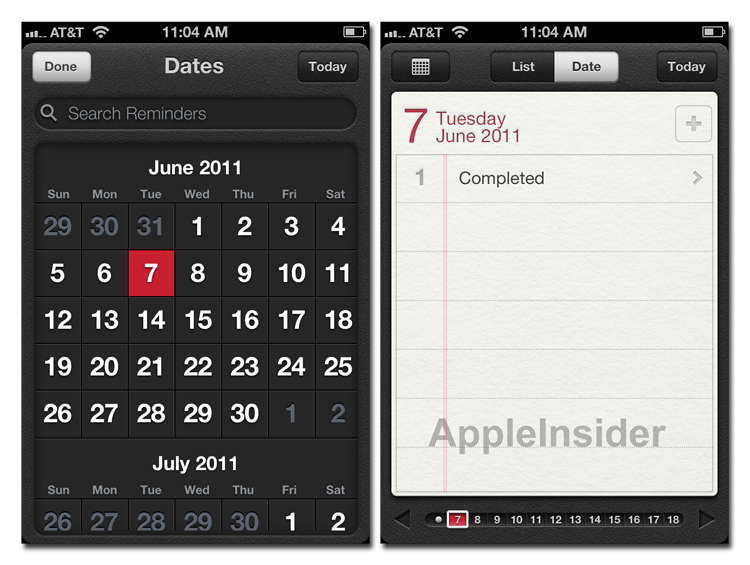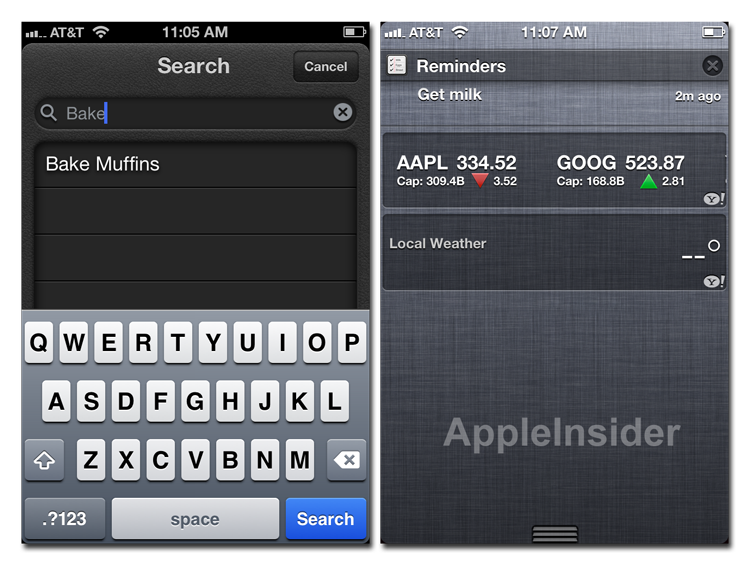 How the Reminders application notifies users can be changed in the iOS Settings application. There, Notification Center can be turned on or off, the number of items to be displayed can be selected, and an option to show to-dos in the lock screen is available.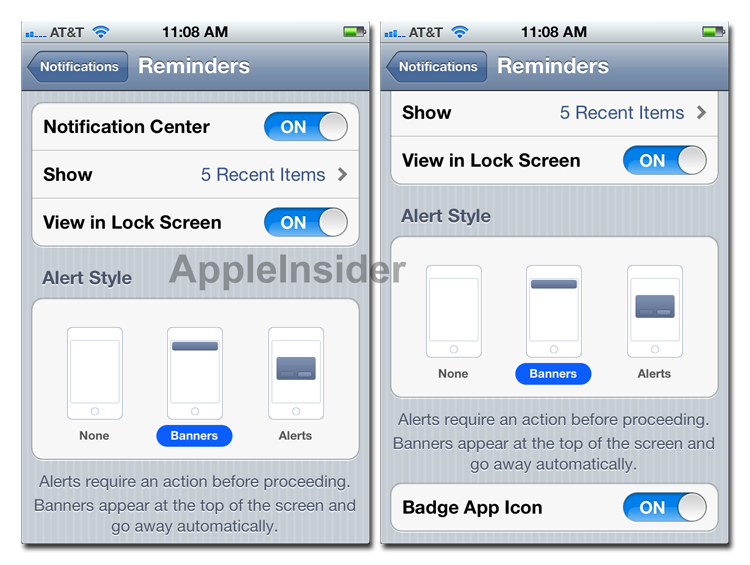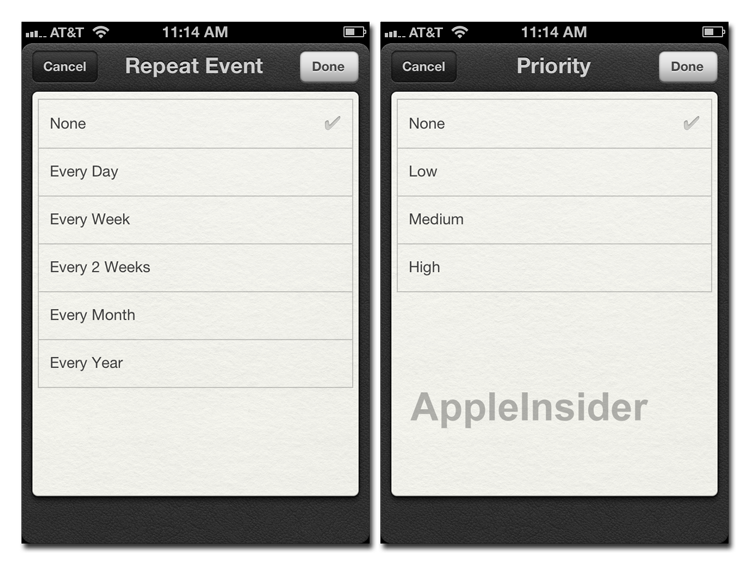 Reminders can also be shown as banners, utilizing the new notification system, or alerts, which are the current system found in iOS 4 that requires an action before proceeding. Banners will appear temporarily before sliding off of the screen.