IDC revises 2015 smartphone estimates, predicts iPhone share will drop to 16.9%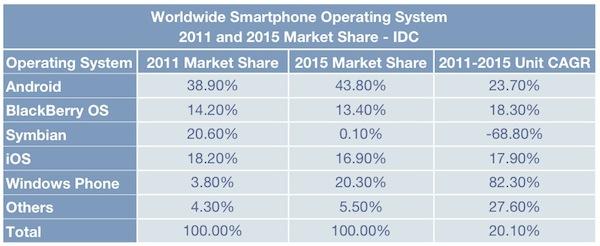 IDC released new long-term forecasts for worldwide smartphone operating systems on Thursday, predicting that Apple's iPhone will fall from 18.2 percent market share in 2011 to 16.9 percent in 2015.
The research group released the data in its Worldwide Quarterly Mobile Phone Tracker report, expecting the smartphone market to grow by 55 percent to reach 472 million devices in 2011, MacNN reports. By 2015, the smartphone market is expected to double based on a compound annual growth rate of 20 percent.
Senior researcher Kevin Restivo remarked that the "floodgates are open wide" for the global smartphone market, especially in Asia-Pacific and Latin America.
According to the report, Apple's iOS will fall from an 18.2 percent share of the 2011 worldwide smartphone market to 16.9 percent in 2015. IDC sees Google's Android OS holding onto the top spot with 43.8 percent market share in 2015, up from 38.9 percent in a 2011. Research in Motion's BlackBerry OS is expected to slide from 14.2 percent to 13.4 percent.
In the next four years, the biggest shift will come from Nokia's Symbian, which IDC predicts will drop from 20.6 percent to 0.1 percent as the company switches over to the Windows Phone platform. Microsoft will see big gains from its deal with Nokia, jumping up from 3.8 percent in 2011 to 20.3 percent in 2015.
IDC's numbers have shifted since an earlier prediction from March. At that time, the group predict Android's 2015 market share would reach 45.40 percent, while iOS would hold just 15.30 percent. However, those predictions were published before Apple released its second quarter fiscal 2011 results, boasting a record 18.65 million iPhone sales with 113 percent year over year growth.
Apple is currently the No. 2 producer of smartphones, behind only Nokia, according to IDC. In the first calendar quarter of 2011, Apple sold 18.7 million iPhones for roughly 18.7 percent of the smartphone market, which totaled nearly 100 million devices.