Apple predicted to ship 1.5M Sandy Bridge MacBook Airs with Lion per quarter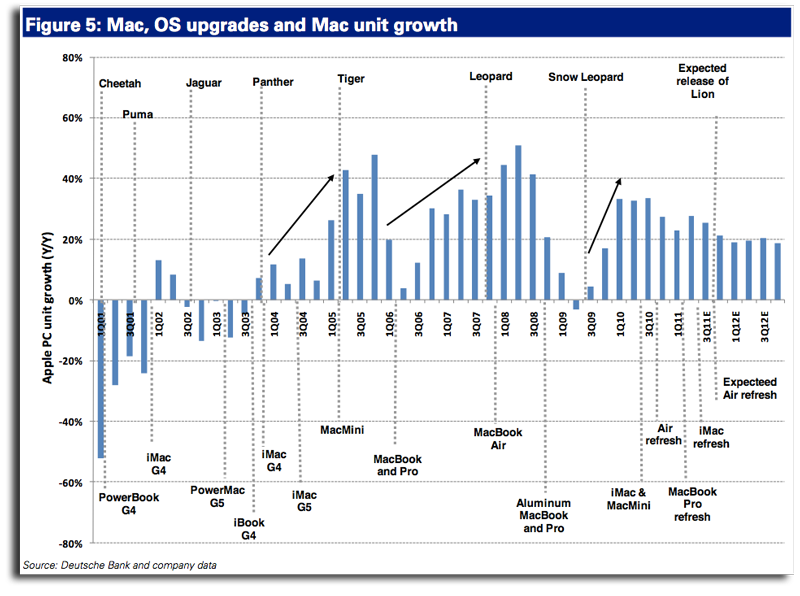 AppleInsider is supported by its audience and may earn commission as an Amazon Associate and affiliate partner on qualifying purchases. These affiliate partnerships do not influence our editorial content.
An anticipated refresh to the MacBook Air lineup, bringing Intel's latest generation Sandy Bridge processors, as well as the launch of Lion could boost Apple's thin-and-light notebook to build orders of 1.5 million per quarter, one Wall Street analyst believes.
If sales of the ultraportable were to go as high as 1.5 million, as Chris Whitmore with Deutsche Bank believes they could, the MacBook Air would represent about 50 percent of Apple's total notebook business. Checks with supply chain sources reportedly indicated that the new notebook will go on sale in July.
Last week, AppleInsider exclusively reported that Apple has placed orders for a total of 380,000 Sandy Bridge-based MacBook Air models this month. Roughly 55 percent, or 209,000, of those are expected to be the 11.6-inch models, while the remainder will be the larger 13.3-inch models.
A MacBook Air refresh, along with the impending release of Mac OS X 10.7 Lion, is expected to boost Mac sales even more, as Apple's computers have consistently outgrown the rest of the PC market for years now. Whitmore has forecast sales of 18 million Macs in calendar year 2011, but he said Monday that he now believes his estimate is conservative.
Whitmore also noted that he expects the operating margins for Lion to be slightly higher than with past upgrades, because Lion will be sold exclusively through the Mac App Store and will not carry any retail distribution costs. He sees Lion with an operating margin of around 90 percent, while previous software upgrades were around 85 percent.
With a low $29.99 selling price, significant enhancements and arrival alongside updated MacBook Airs, Lion is expected to have a strong upgrade cycle. New operating system releases are an important event for Apple, as historically they have provided a noteworthy boost in Mac sales.
Following the release of Tiger in April of 2005, Mac sales increased by 34.2 percent year-over-year in the following quarters. Leopard led to an even greater 45.6 percent year-over-year boost after it debuted in October 2007. And the launch of Snow Leopard in August 2009 brought about a 33.1 percent increase in Mac sales.
On average, a new Mac OS release has helped hardware sales achieve growth more than 30 percent greater than the year prior. But in addition to new hardware sales, Whitmore also sees more than 25 million existing Mac users, or about 50 percent of Apple's current installed base, upgrading to Lion in the next two to three quarters.
Those Lion upgrades will be important, because the new operating system is a "key enabler" of the new iCloud services that Apple will offer for free. Whitmore sees iCloud driving a "very high upgrade rate" among Apple customers for both Macs and iOS devices.
Deutsche Bank has maintained a "buy" rating for AAPL stock, with a price target of $450.