New York Post website now blocking Safari access on Apple's iPad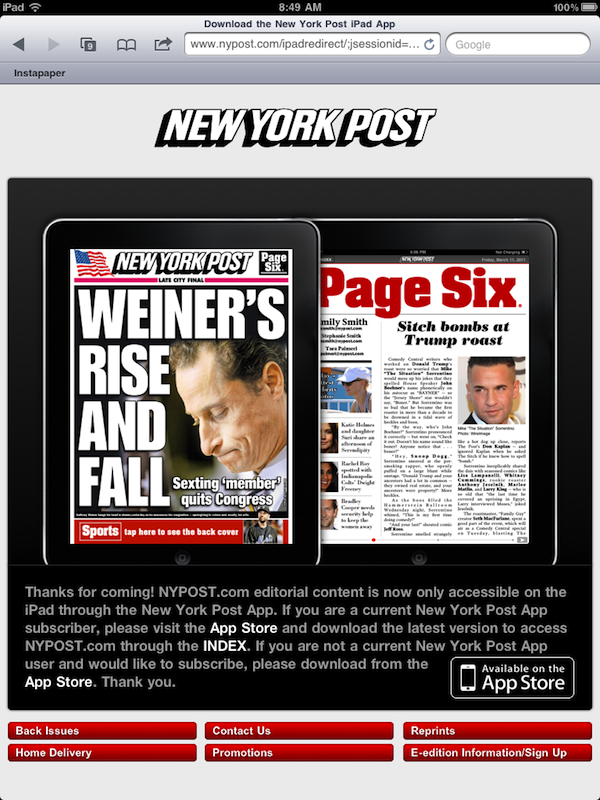 The New York Post has setup a new paywall targeting mobile Safari users on Apple's iPad and directing them to download the publication's app through the App Store.
Content on the website for the New York Post is no longer available to iPad users outside of the publication's official App Store app, paid Content reported Saturday. Navigating to the NYpost.com site in Safari on the iPad results in a landing page directing prospective readers to the App Store. Previously, the site displayed an interstitial ad promoting the app before allowing users to continue on to the website.
Links from the Post's own Facebook page visited also result in the landing page for iPad users on Safari. Meanwhile, the website appears to still be enabled for users of other iPad browsers, such as Skyfire or Opera Mini.
"Thanks for coming. NYPost.com editorial content is now only accessible on the iPad through the New York Post App," the landing page reads. The page goes on to encourage current subscribers to download the app, where they can access the website through the the Index feature.
Subscriptions through the app run $6.99 per month, $39.99 for six months or $79.99 for the year, with no option for single-issue digital purchases.
While the Post is by no means the first major outlet to enact payrolls for its content, the decision has quickly drawn criticism specifically "blocking the web for a subset of users." "This is breaking the web," wrote blogger Dave Winer.
Apple unveiled the in-app subscriptions feature for iOS earlier this year, drawing heavy criticism for rules that were deemed anticompetitive. Last week, Apple backed down on a rule that required in-app prices to be "at the same price or less" than those offered outside the app.
Despite initial hesitation, a number of big name publishers and publications have begun offering in-app subscriptions. Bloomberg Businessweek was one of the first magazines to initiate in-app subscriptions, saying it was "pleased with Apple's terms" and remained focused on the iPad as "the most important place to be right now."
Condé Nast, which publishes titles such as The New Yorker, Wired and GQ, began offering in-app subscriptions in May, while Hearst has promised that three of its magazines will add support for in-app subscriptions starting by July: Esquire, Popular Mechanics, and O, The Oprah Magazine.