Apple releases Final Cut Pro X, Motion 5 and Compressor 4 on Mac App Store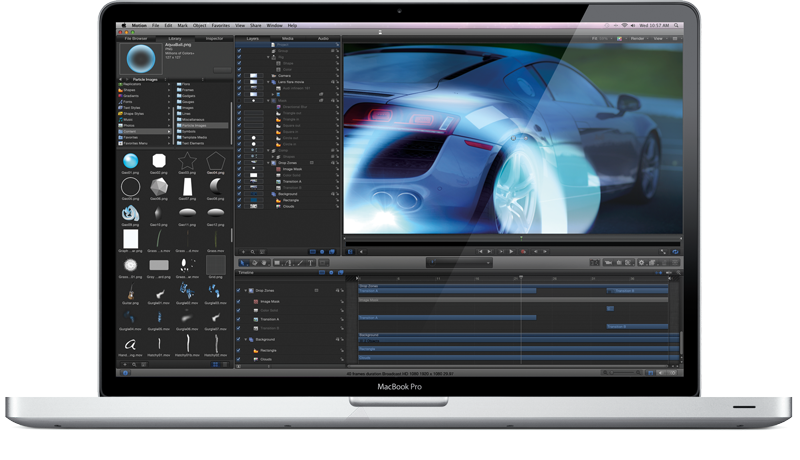 AppleInsider is supported by its audience and may earn commission as an Amazon Associate and affiliate partner on qualifying purchases. These affiliate partnerships do not influence our editorial content.
Apple on Tuesday released Final Cut Pro X, which it touted a "revolutionary new version" of the video editing software, for $299.99 on the Mac App Store, along with Motion 5 and Compressor 4 for $49.99 each.
Final Cut Pro X (iTunes link) features a "Magnetic Timeline" that lets users edit on a flexible, trackless canvas. It also boasts "Content Auto-Analysis" that categorizes content upon import by shot type, media and people.
New background rendering also allows users to work without interruption. The software, available only on the Mac App Store in Mac OS X, is built on a modern 64-bit architecture.
"Final Cut Pro X is the biggest advance in Pro video editing since the original Final Cut Pro," said Philip Schiller, Apple's senior vice president of worldwide product marketing. "We have shown it to many of the world's best Pro editors, and their jaws have dropped."
Final Cut Pro X's "Magnetic Timeline" is a trackless approach to editing footage. It allows users to add and arrange clips wherever they want them, while other clips instantly slide out of the way.
"Clip Connections" can be used to link primary story clips to other elements like titles and sound effects, so they stay in perfect sync when they are moved. Related story elements can be combined into a "Compound Clip" that can be edited as a single clip.
The new "Auditions" feature also allows users to swap between a collection of clips to instantly compare alternate takes.
"Content Auto-Analysis" will scan media on import and tag content with useful information. Final Cut Pro X then uses that information to dynamically organize clips into "Smart Collections," so the clips can easily be discovered by close up, medium and wide shots as well as media type and the number of people in the shot. Parts of clips can also be tagged with Range-based keywords to add custom search criteria to media.
Completely rebuilt from the ground up, Final Cut Pro X is a 64-bit app that takes full advantage of the latest Mac hardware and software, and even provides performance enhancements with 4K video. Final Cut Pro X uses multi-threaded processing and the GPU for faster background rendering and real-time playback performance. Additionally, a ColorSync-managed color pipeline ensures color consistency from import to output.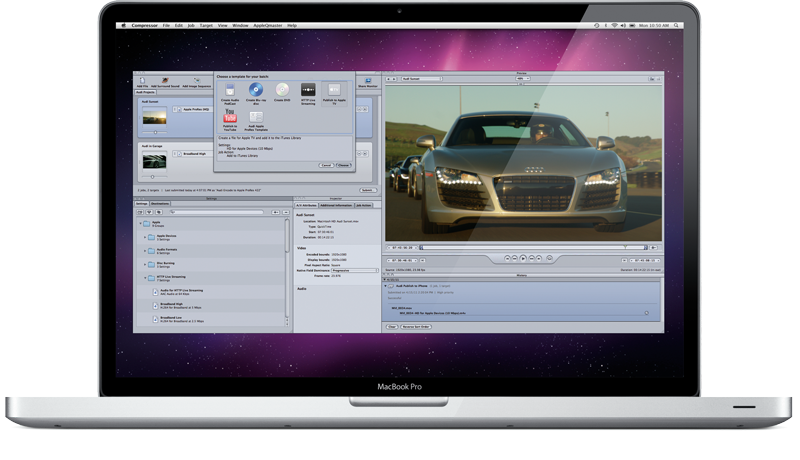 Final Cut Pro X also includes tools for audio editing and color correction, and is complemented by two companion apps, Motion 5 for professional motion graphics and Compressor 4 for advanced media encoding, available from the Mac App Store for $49.99 each.
"I'm blown away by what Apple has done with Final Cut Pro, said Angus Wall, Academy Award-winning film editor. "Final Cut Pro X is incredibly modern and fast, but most importantly it lets you focus on telling your story in the most creative way, while it actively manages all of the technical details."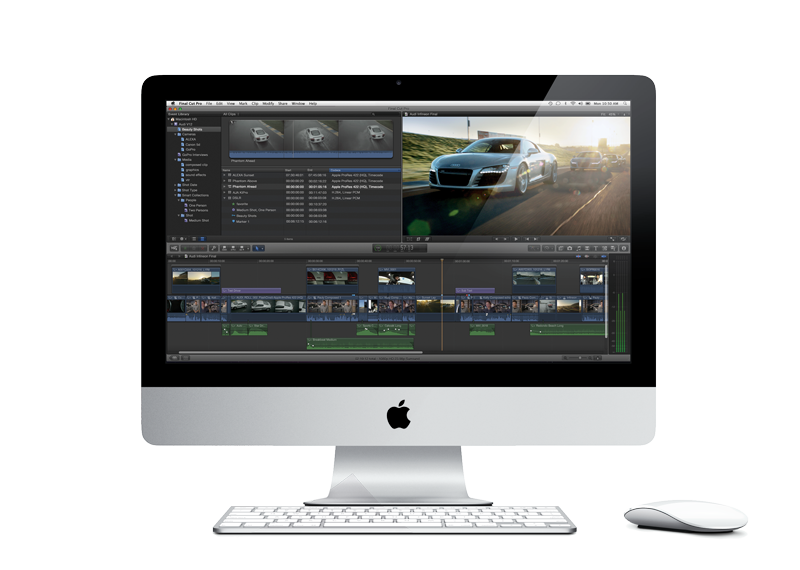 Application

64-bit architecture to take advantage of more than 4GB of RAM
Background rendering using GPU and CPU
ColorSync-managed color pipeline
High-precision floating-point render in linear-light color space
Uses Grand Central Dispatch to tap into all available processors
Full-screen, real-time preview playback of SD, HD, 2K, and 4K media on main screen or an attached LED Cinema Display
Customizable keyboard
Full Unicode support
Magnetic Timeline automatically keeps material in sync, prevents clip collisions, and eliminates gaps.
Clip Connections keep secondary material in place while trimming and moving the Primary Storyline. Choose to hide or display Clip Connections in the timeline.
Compound Clips allow complex compositions to be simplified into a single clip.
Auditions combine multiple clips into a single clip to see alternative takes, color grades, or effects in context.
Duplicate a clip inside an Audition for comparison of different effects on the same clip
Edit while importing media in the background.
View material in Filmstrip or List view with a mini-filmstrip and metadata columns.
Skimming functionality enables fast viewing of large amounts of material.
Skimmable projects in Project Library enable viewing before loading.
Mix frame sizes, frame rates, and formats in the same timeline up to 4K in real time.
Edit at 23.976, 24, 25, 29.97, 30, 50, 59.94, or 60 fps.
Create the correct project setting with the first edit.
Insert, Overwrite, Replace, Append, and Connect with keystroke or drag and drop.
Extend edit to Skimmer position.
Split edits with J and L cuts in the timeline.
Top and Tail in a single keystroke for news and documentary editing.
Direct access to iTunes, iMovie, iPhoto, and Aperture through Media Browsers.
Timeline Index for timeline navigation and the selection of items based on text searches and other important metadata.
Position tool for moving and deleting media in the timeline and leaving gap.
Clip Markers that include to-do items that can be checked off when tasks are completed
Snapping to Playhead, Skimmer, Clips, and Markers.
Replace with Gap
Lift from Primary Storyline
Create Storyline to consolidate B-roll into a single unit
Insert Placeholder
Insert Gap
Numeric entry of precise clip durations
Blade tool for adding edits
High-quality, real-time vectorscopes, waveforms, and histograms
Record Audio tool for adding narration
Six Clip Appearance presets for timeline display
Multi-Touch gesture support
Trimming
Inline Precision Editor allows skimming of media around the edit before trimming.
Basic timeline trimming
Trim tool for advanced timeline trimming functions
Ripple and roll
Slip and slide
Lift and ripple delete
Dynamic 2-Up trimming with Show Detailed Trimming Feedback enabled
Keyboard and numeric moving and trimming
Effects
Shared Render Engine with Motion and Compressor
Add multiple effects and transitions within a range selection.
Multistream real-time effects in SD and HD formats
Alpha-channel support in real time
Integration with Motion for advanced motion graphics work
Use "Open in Motion" on any effect, modify in Motion, and save as new in Final Cut Pro.
Numeric and keyframe control for precise animation and effects
Copy and paste motion and effect attributes to multiple clips.
Access music, sound effects, transitions, filters, color looks, and generators through Media Browsers
Over 160 advanced 2D and 3D title templates
Over 90 high-quality transitions
Over 125 sophisticated animation templates with video drop zones created by a top Hollywood effects company
Over 110 filters, keys, blurs, and color looks
28 backgrounds, elements, solids, and textures
Trim, crop, and Ken Burns effect
Distort tool with keyframes and onscreen controls
Transform tool with keyframes and onscreen controls
Stabilization effect in real time after background analysis
Rolling Shutter correction to improve DSLR video
Spatial Conform to make different aspect ratios fit into a project seamlessly
Retime tool for speed changes controlled in the timeline for entire clips or selected ranges
Rewind, Instant Replay, and Speed Ramp in a single click
Three Retime quality settings: normal, frame blending, and optical flow
Preserve audio pitch when changing speed
Find and Replace Title Text
Show Title/Action Safe Zones for positioning titles and effects
Audio
Subframe audio keyframing
Support for audio samples up to 192kHz
Real-time Mac OS X Audio Units and Logic plug-in effects included
Support for 64-bit third-party Audio Units plug-ins
Keyframable audio levels and effects
Adjust audio filters in real time during playback
5.1 surround monitoring and keyframe control for panning
Preset animations for 5.1 surround panning such as Back to Front, Rotate, Create Space, and more
10- or 31-parameter EQ built into each audio clip
Match Audio for smoothing out EQ from different microphones
Audio enhancements for volume normalization, background noise removal, and hum removal for both 50Hz and 60Hz
Audio analysis during import option to remove serious background noise and flag medium-level issues for enhancement
Over 1300 royalty-free sound effects included as a separate download
Individual audio channel control for enable/disable and configuration
Audio skimming with pitch preserved
Fade handles at the head and tail of each clip
Audio pan controls
Disable and solo controls
Audio waveform display in viewer and timeline
Logarithmic audio fades
More than 100 audio filters
"Show Reference Audio Waveforms" preference to see original waveform height when adjusting volume in the timeline
VU meters that expand as needed
Color Correction
Unique Color Board with controls for saturation, exposure, and color
Match Color for precise shot matching in one click
Balance Color instantly improves skin tones, removes color casts, and expands dynamic range of bright and dark regions of the image.
Keyframable masks with size, rotation, and softness adjustments
Adjust inside or outside of color mask
Unlimited numbers of color corrections per shot
Save and reuse color settings presets
20 Color Board presets
Over 20 advanced color Looks in the Effects Browser
Supported Formats and I/O
Apple ProRes family, a 10-bit, full-width VBR codec that supports all major frame sizes and frame rates from ProRes Proxy to ProRes 4444
Resolutions supported up to 4K frame sizes
Background transcode original media to ProRes 422 or ProRes Proxy for better performance
Create Camera Archives from any folder of media for importing into Final Cut Pro.
Import Camera Archives from third-party video capture cards and software.
Import from Apple devices including iPhone, iPod touch, and iPad 2.
Import projects and Events from iMovie.
Sony IMX, XDCAM, XDCAM EX, XDCAM HD, and XDCAM HD422 import supported with additional Sony software
FireWire device control for streaming capture for tape-based HDV, DV, DVCAM, DVCPRO, DVCPRO 50, and DVCPRO HD
Export presets for Apple devices, including Apple TV, iPhone, iPad, and Mac
Export presets for YouTube, Podcast Producer, Facebook, Vimeo, CNN iReport, and email
Export and burn DVD, AVCHD disc, and Blu-ray disc.2
Apple-designed menus for DVDs and animated menus for Blu-ray discs
Export as Image Sequence
Export as HTTP live streaming for Internet streaming to cellular, Wi-Fi, and broadband.
Export audio as AAC, AC3, AIFF, CAF, MP3, and WAVE files.
Native editing support for:
H.264 from GoPro and iFrame cameras
H.264 from DSLR cameras
Broadcast Wave Format
DV, DVCAM, DVCPRO, DVCPRO 50, and DVCPRO HD
HDV
Panasonic AVC-Intra, including AVC-Intra 100 and AVC-Intra 50
Sony IMX, XDCAM HD, XDCAM HD422, and XDCAM EX
JVC-created XDCAM EX
Canon XF MPEG-2; ingest supported with additional software
AVCHD, including Panasonic AVCCAM and Sony NXCAM
Uncompressed 8- and 10-bit SD and HD
Apple Intermediate Codec
Still images including PSD, BMP, GIF, RAW, JPEG, PNG, TGA, and TIFF
Compressed audio including AAC, AIFF, BWF, CAF, MP3, MP4, and WAV
Media Management
Content Auto-Analysis attaches useful metadata during import.
Range-based keywords for creating custom searchable metadata
Create Smart Collections for automatically organizing clips based on selected criteria.
Keyword Collection created by importing a folder of media
Mark ranges as Favorites or Rejects for sorting and sifting.
Media management tools for moving and copying media
Render file deletion per project
Move and Merge Events functions
Consolidate Project Media for moving media to another system
Extensive search, sort, and sift capabilities in the Event Browser
Transcode Media function allows a choice between optimizing to ProRes 422 or creating ProRes Proxy media in the background while editing.
Group clips by creation date, date imported, reel, scene, duration, or file type.
Group Events by year or by year and month.
Show date ranges in the Event Library.
Arrange clips by name, take, or duration.
Reveal clip in Finder or Event Browser.
Custom comment fields
Preference for connecting to proxy or original high-resolution media
Send-to-Compressor integration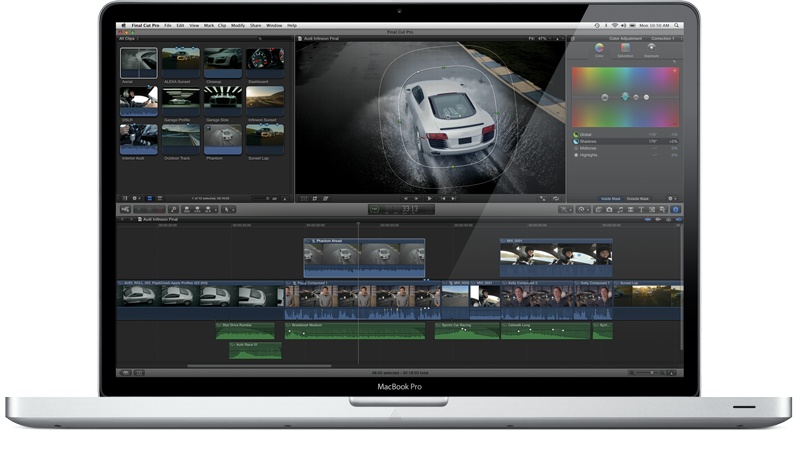 Mac computer with an Intel Core 2 Duo processor or better
2GB of RAM (4GB of RAM recommended)
OpenCL-capable graphics card or
Intel HD Graphics 3000 or later
256MB of VRAM
Display with 1280-by-768 resolution or higher
Mac OS X v10.6.7 or later
2.4GB of disk space
Final Cut Pro X is available today for $299.99 from the Mac App Store. Motion 5 and Compressor 4 are available today for $49.99 each from the Mac App Store. Full system requirements and more information on Final Cut Pro X can be found at apple.com/finalcutpro.