Apple makes WWDC 2011 session videos available to developers via iTunes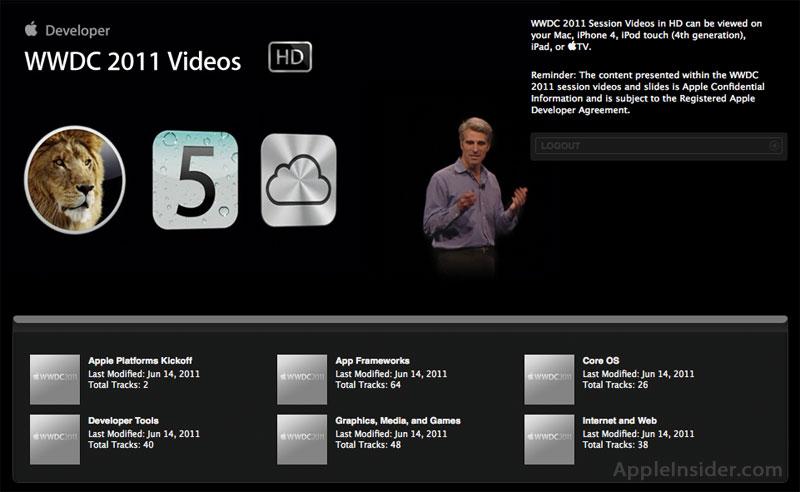 Apple on Thursday published to its developer website more than 100 session videos taken during its annual developer conference, covering Mac OS X Lion, iOS 5.0, iCloud and more.
In total, 109 session videos have been made available to registered developers, allowing those who were unable to attend the conference earlier this month to brush up on the Cupertino-based company's forthcoming software enhancements.
The videos — which are available in both SD and HD formats for the the Mac, iPad, iPod touch, iPhone or Apple TV — may also serve as reference for those developers who did attend the gathering but were unable to attend all the sessions they would have liked due to scheduling conflicts.
Developers seeking to review the videos must be a registered member of Apple's Apple Developer Connection and logged into their account before being able to browse and download sessions through the company's iTunes software.
This year, Apple has broken its session tracks into six core categories: Apple Platforms Kickoff; App Frameworks; Graphics, Media, and Games; Core OS; and Internet and Web.
For example, one session in the App Framworks folder covers "Storing Documents in iCloud Using iOS 5," while another in the the Core OS folder details "Next-Generation Cryptographic Services.
Apple used its 2011 Worldwide Developers Conference to disclose plans for Mac OS X Lion and iOS 5, which are slated to hit the market in July and the Fall, respectively. Both operating systems will leverage iCloud, Apple's online data synchronization service, also introduced at the conference.