iFund startups expect 300M downloads, $250M in revenue this year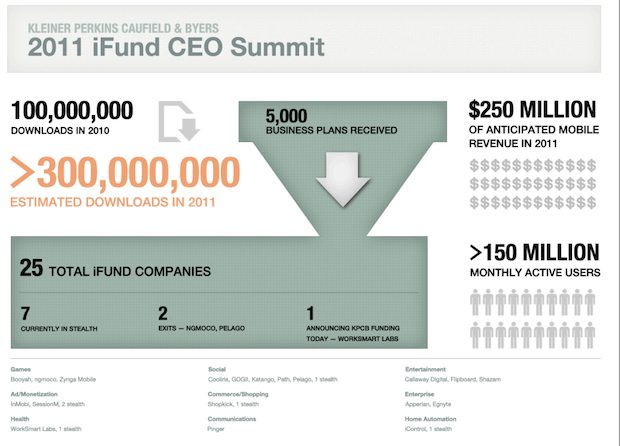 Celebrating the third anniversary of the $200 million iFund, venture capital firm Kleiner Perkins Caufield & Byers announced that the 25 companies the fund has invested in are expected to reach 300 million downloads and $250 million in mobile revenue in 2011.
KPCB started the fund in 2008 with $100 million for investing in companies looking to develop third-party apps for the then-forthcoming App Store. The firm then doubled down on the fund in 2010 in preparation for the launch of the original iPad.
TechCrunch reports that the iFund has now grown to 25 funded companies, pared down from 5,000 business plans. Seven of the companies remain in stealth mode, while Ngmoco and Pelago have had exits. Japanese social game developer DeNA purchased Ngmoco last October for close to $400 million, at the time creating the largest mobile social gaming platform in the world.
The apps in the fund have grown from 100 million downloads by March 2010 to a projected 300 million downloads by the end of this year. Mobile revenue will grow from $100 million last year to a projected $250 million this year.
KPCB also announced a new addition to the iFund on Thursday, Worksmart Labs. The fitness technology appears to be the first Android-only company to receive money from the iFund. In April, reports emerged that 13 of the 16 iFund-backed companies were developing for both iOS and Android.
However, Matt Murphy, Kleiner partner and iFund manager, said in April that the fund's commitment to iOS hasn't changed. "We're still true to form in terms of our focus. It's just the overall smartphone ecosystem has gotten so much larger since we launched three years ago,"
Last October, KPCB started a $250 million sFund to invest in social startups. Amazon, Facebook, Zynga, Comcast and Allen & Co. are investors in the fund.
As of early June 14 billion apps have been downloaded since the App Store opened in 2008, with Apple having paid $2.5 billion to app developers, which receive a 70 percent cut of sales.