40% of European smartphone buyers plan to buy iPhone next, 19% choose Android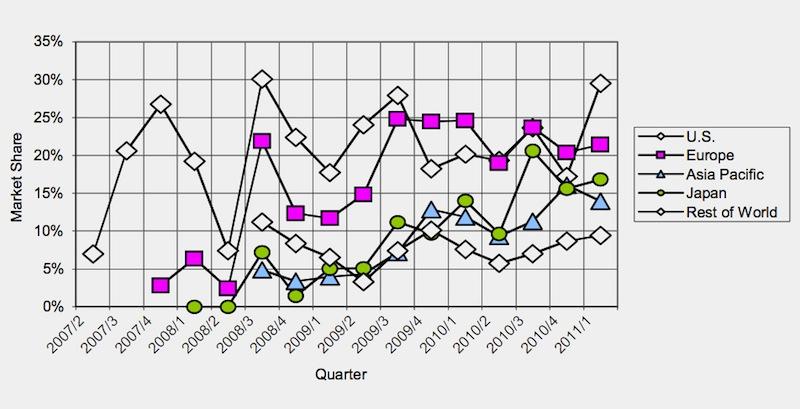 According to a recent survey, smartphone purchasers in Europe are twice as likely to buy Apple's iPhone than a Google Android device as their next handset.
An early look at the findings from the Yankee Group's 2011 European Mobile User Study revealed that 40 percent of European smartphone buyers plan on making the iPhone their next device, as compared to 19 percent for Android, BGR reported on Thursday. Also, 17 percent of respondents went with Research in Motion's BlackBerry, while 15 percent chose Nokia.
"These findings highlight the continued strength of Apple in the European smartphone market and, in particular, its phenomenal brand appeal," said Declan Lonergan, research VP at Yankee Group. "The data also highlights the enormous challenges faced by Nokia and RIM to retain mind share and market share in this increasingly dynamic and competitive marketplace."
The study polled 5,000 consumers and 2,250 employees and IT decision-makers in France, Germany, Italy, Spain and the U.K. Employees also said in the study that they are 58 percent more productive during long-distance travel with a tablet, and mobile users tended to have more than one device, switching between screens depending on context.
The findings come as analysts have suggested that Android may be poised lose some of its market share gains after two straight years of growth. Android lost share to the iPhone in the U.S. during the March quarter, driven in part by sales of the iPhone 4 on Verizon, which reached 2.2 million units by the end of March.
Europe is Apple's second best-performing region for the iPhone. As of the March quarter, Apple's smartphone market share stands at just above 20.8 percent in the area, behind only the handset's 30 percent market share in the U.S. By comparison, Android currently comprises 35.7 percent of smartphone sales in Western Europe.
iPhone's market share by region | Source: IDC