Apple may make more profit selling one Mac than HP does from 7 PCs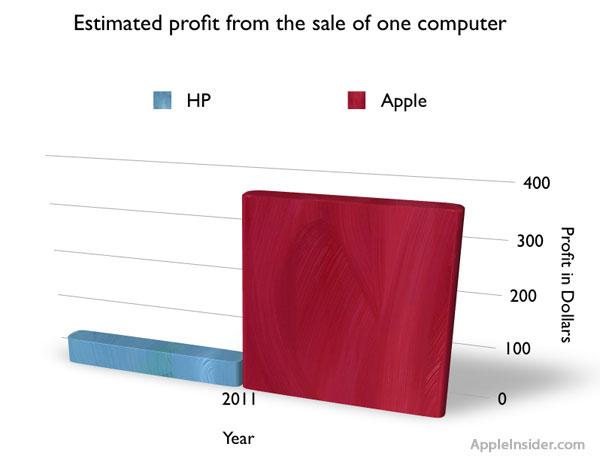 Apple has a tall order ahead of it if the company ever plans to challenge some of its larger rivals in personal computer market in terms of volume shipments, but the profit the Mac maker currently takes home from the sale of each system may already be enough to spook its competition.
In a blog post titled "A Consequence of Losing the PC Wars," high school student and amateur tech journalist Matt Richman performed basic number crunching in comparing Apple's profit margin from the sale of Macs to that of Hewlett-Packard PCs.
The results are striking.
Richman recalled that Apple amassed $4.976 billion in revenue from the sale of 3.76 million Macs during its previous quarter, yielding an average selling price of $1,323.40 per Mac. He then multiplied that figure by a 28% gross margin estimate for Mac sales from Jefferies & Co. — which is still several hundred basis points below the company's reported average — to arrive at a profit of $370.55 per Mac sold.
By comparison, HP's Personal Systems Group brought in $9.415 billion in revenue and turned a profit of $533 million last quarter. The PC maker's operating margin, which doesn't factor in overhead costs, came in at 5.66%.
"If we assume they spent 1% of their $9.415 billion in revenue — $94.15 million — on operations, then their profit margin was 6.66%," Richman wrote. "But let's give them the benefit of the doubt and make it 8%."
Given that the average selling price of Macs increase 5.71% over the previous two quarters, he applied growth rate to data published by market research firm NPD, which identified the average selling price of PCs in November as $615, to reach a current average selling price of $650.12.
With an average selling price of $650 and a generously-calculated profit margin of 8 percent, HP would be making approximately $52 on the sale of each PC, meaning "Apple makes more money from the sale of one Mac than HP does from selling seven PCs."
"Numbers like these have to scare the hell out of Apple's competition," wrote the Loop's Jim Dalrymple, who was first to draw attention to Richman's revelation.