References to unannounced iPod touch found in Apple's iOS 5 beta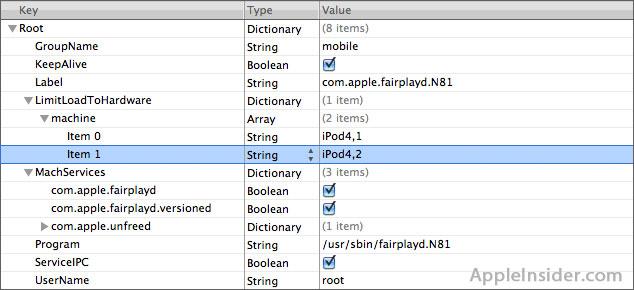 AppleInsider is supported by its audience and may earn commission as an Amazon Associate and affiliate partner on qualifying purchases. These affiliate partnerships do not influence our editorial content.
References to an unreleased version of Apple's iPod touch have turned up in code strings found inside the company's first beta of iOS 5.0, though the discovery may raise more questions than answers.
Specifically, one eagle-eyed developer over at the ifans.com forums turned up a singular reference to an "iPod 4,2" while browsing the resources of Apple's first iOS 5.0 beta distribution for the existing iPod touch, referenced as "iPod 4,1."
The discovery, which has been verified by AppleInsider (see below), may be significant in that it could suggest Apple may be planning to release an evolutionary refresh to the iPod touch this year rather than a revolutionary one that would presumably cary an "iPod 5,1" identifier.
But as TUAW points out, that same reference to an iPod 4,2 has been lingering in iOS builds since iOS 4.3, which has since been released to the public. As such, the discovery could manifest as nothing more than another iPod 2,2 — an identifier for an unreleased iPod touch discovered a couple of years back that never made it to market.
As it stands, few details have surfaced on Apple's 2011 plans for the iPod touch, which has historically seen refreshes during the September time-frame when Apple routinely holds a media event to usher in its latest innovations in the music and media space.
To this end, Apple has consistently introduced new iPod touch models with internal design attributes that follow closely in the footsteps of iPhone models introduced earlier in the year. For instance, the fourth-generation iPod touch unveiled last September adopted the same A4 processor and supporting components that made their debut that summer in the iPhone 4.
With Apple pushing back this year's launch of a new iPhone to the September quarter, it's possible the company could hold off on the inclusion of its A5 chip inside the new iPod touch, again giving the iPhone first dibs on the technology with the iPhone 5. However, such a move seems unlikely.
That same A5 chip already powers the company's second-generation iPad and Apple has been adamant in closing any window that could allow its competitors to encroach on its market dominance by fitting its iOS devices with the most powerful mobile and graphics processors, among other enhancements.
In each instance where Apple has performed material internal upgrades to its iOS devices' componentry, it has referenced those models with corresponding jumps in their identifiers. For example, a move to Apple's A4 chip in the fourth-generation iPod touch from the Samsung-manufactured ARM reference processor in the third-generation model saw its identifier jump from iPod 3,x to iPod 4,x.
Therefore, listings of a minor revision to the iPod touch's identifier in early iOS 5 builds (iPod 4,2) could indicate that Apple plans a more modest upgrade to the players this year alongside the A5-equipped iPhone 5. Alternatively, the reference may be little more than a left-over, with all references to an iPod 5,1 intentionally omitted from software builds that enter into broad developer distribution.
Earlier this month, references to a pair of third-generation iPads (iPad 3,1 and iPad 3,2) turned up in similar distributions of iOS 5.0, suggesting Apple plans to introduce the next-generation of its hot-selling tablet device in only two versions: a WiFi version and world 3G version capable of running on both GSM and CDMA networks.