Apple's location-based dock concept has unique profiles for home, work, car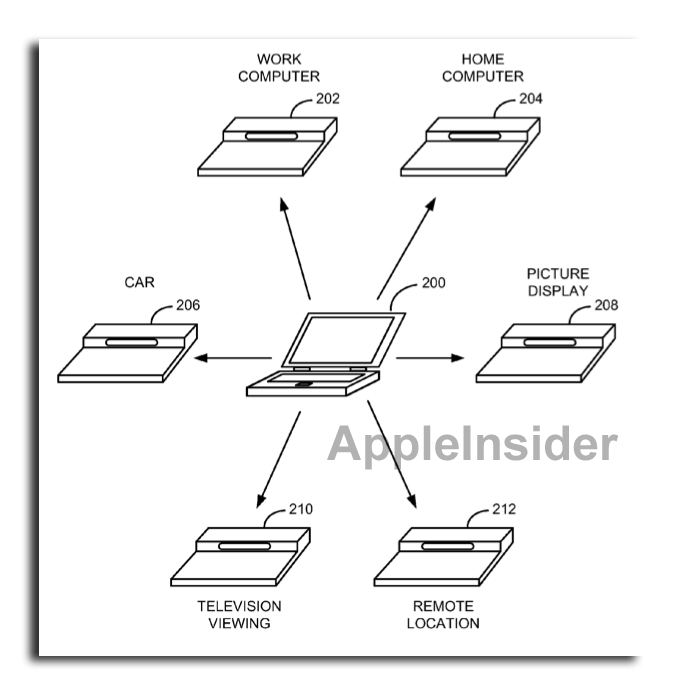 Apple has shown interest in a new location-based docking system that would dynamically change the interface and settings of a portable device for different activities like working or driving a car.
The concept was revealed this week in a new patent application published by the U.S. Patent and Trademark Office entitled "Location-Based Dock for a Computing Device." Discovered by AppleInsider, the proposed invention notes that while docking stations are typically passive devices, these described docks would take on a more active role.
"It is often left to the user to configure the computing device for use at different locations by accessing or selecting the proper software applications and security measures for the computing device..." the application reads. "However, such configuration of the device may be both time-consuming and confusing to a non-sophisticated user."
Apple's idea could apply to any portable device, whether it be a MacBook, an iPhone or an iPad. Each docking station would, when coupled with the appropriate portable computing device, recognize its location and allow the user to operate the device accordingly.
For example, an iPhone plugged into a moving car could automatically become optimized for use through voice control, as a user driving would not be able to operate the touchscreen.
For someone who uses the same hardware both at home and at the office, a system could automatically be reconfigured to offer the best of both worlds. For example, while at work, a docked system would access work-related e-mails and calendar entries, while at home the device would switch to personal e-mail and calendars.
Apple's concept also extends to other docking ideas, including one meant to be used while watching television, or another that would have a device act as a digital picture frame while docked.
The location-based element could allow the settings to change based on the physical location of the hardware. In this method, if a user were to have only one docking station, they could use it both at work and at home and the appropriate settings would be implemented
And while location could play an important role in each docking station, Apple's concept also notes that settings could be tied to a particular dock regardless of its location. For example, a user could have two or more docking stations at a single location, allowing them to use them for different computing configurations.
The patent application is credited to Nicholas Vincent King, Aleksandar Pance and Brett Bilbrey. It was first filed on New Years Eve in 2009.