FAA approves use of Apple's iPad as electronic flight bag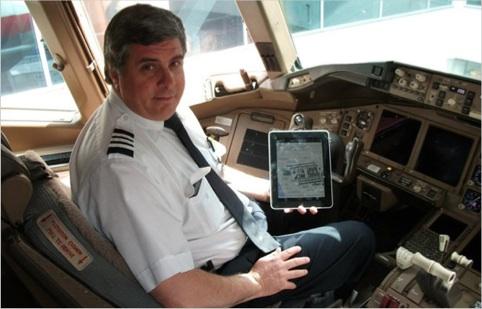 The U.S. Federal Aviation Administration has authorized a smattering of commercial and charter airlines to replace cumbersome 40-pound paper manuals with iPads, which will instead serve as so-called electronic flight bags for pilots.
Customarily, an aircraft cockpit would contain a collection of paper flight manuals typically weighing around forty pounds, that encompass everything from log books to the operating manual. However, with the latest FAA authorization, they could all be replaced by a one and a half pound iPad.
The first carrier to gain such approval was Alaska Airlines back in May. Their pilots were given permission to use the iPad to consult digital flight, systems and performance manuals. The move cut around 25 pounds of paper for each flight bag.
Jim Freeman, who works both as a pilot and the director of flight standards at Alaska Airlines said "the iPad allows pilots to quickly and nimbly access information," adding that "when you need to a make a decision in the cockpit, three to four minutes fumbling with paper is an eternity."
The new e-manuals on the iPad are also much easier to maneuver than before as a result of the added hyperlinks and color graphics, while updating the manuals is also a far simpler process. Instead of substituting old pages for new pages, the manual is updated automatically.
Interestingly, the transition to iPad is thought to reduce healthcare costs that come about from shoulder and back injuries that are tied to carrying the cumbersome flight bags. David Clark, a pilot the manager of the connected aircraft program at American Airlines told the New York Times, "Cockpits are small, and lifting that thing up and over your seat causes damage, particularly when you consider a lot of pilots are over 40."
Further still, Alaska Airlines has plans in place to add more applications including aeronautical maps and charts. Be that as it may, they will still need to consult the FAA for approval.
The FAA's deputy director of flight standards said that "each airline must submit a unique proposal on how they want to use the iPad and prove that both the device and software application are safe and effective for that proposed use." In one instance, Executive Jet Management proved the iPad was safe by putting it through rapid decompression at 51,000 feet. By contrast, private and corporate pilots are not required to go though the vigorous approval process as they are deemed responsible for deciding what is safe for use in their own cockpit.
Jack Long, a pilot for more than 30 years who flies for business and pleasure, told the Times, "I didn't ease into using the iPad, I jumped." He was able to scrap his $1,414 a year subscriptions to paper maps and charts, and replace them with the same maps and charts but sent to his two iPads, costing only $150 a year. He also stores digital versions of his aircraft, operating manuals, equipment and a copy of F.A.A. rules and regulations.
The iPad itself possesses greater than 250 aviation apps. The top grossing of them all is 'ForeFlight' which can administer maps, aeronautical charts and weather while assisting the pilots with planning flight plans. On top of that, the tablet has a ten-hour battery allowing it to cope with all US domestic flights without the need for recharging.
The iPad was announced in January 2010 and released in April the same year. As of June 6 2011, Apple has sold 25 million worldwide.