Lawsuit accuses Missouri Apple Store of race, gender discrimination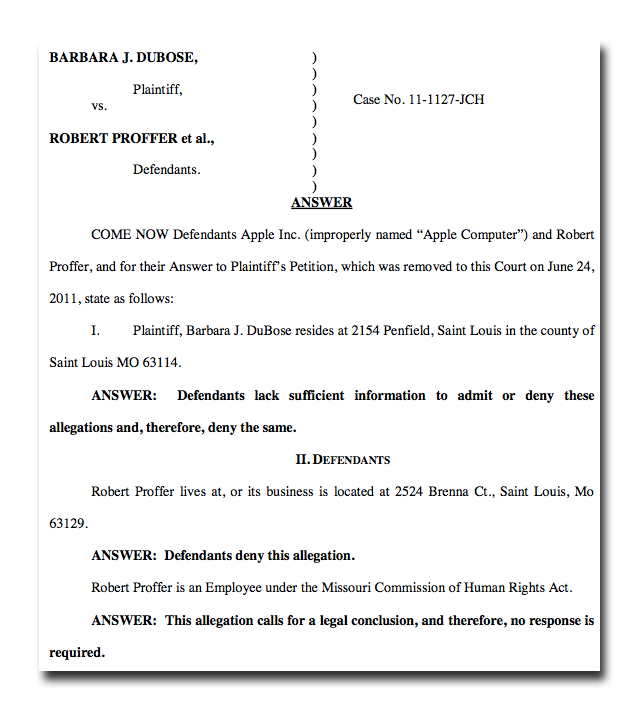 A new lawsuit takes aim at Apple and one of its senior retail store managers, accusing them of refusing to promote an employee because she is a black woman.
The case stems from the Apple retail store located at the St. Louis Galleria in St. Louis, Mo. Plaintiff Barbara J. DuBose has accused Apple and the senior store manager of its St. Louis location, Robert Proffer, of race and gender discrimination and retaliation.
DuBose was a part-time employee at the retail store who expressed interest in working full-time. She claims that she was told by her manager that she needed to work on things like her composure, this despite allegedly receiving high marks in a review.
In her complaint, she alleges that she applied for full-time positions was denied, even as other new hires were brought into the St. Louis store. It is claimed that in late 2010, the store had more than 100 workers and only eight of them black, and two of those eight full-time workers.
"I've been part-time at Apple for three years and there has never been a minority to be promoted to any higher paying position," DuBose wrote in the complaint, written in the first person.
DuBose alleges that in December of 2010 in a meeting with her manager she was told that she did not receive promotions because she created a "hostile work environment," and that several workers at the store were "upset" with her. Subsequent hires were either mostly or all white males, she claims.
DuBose filed a complaint with the U.S. Equal Employment Opportunity Commission which included an e-mail with the subject "Thug-Life" that contained a photo of her manager wearing a "STL cap" She said she was "highly offended" by this picture.
She has argued that her race was a "contributing factor" in the case. As further evidence she claims the few black full-time workers at the store are all "lighter skinned African-Americans."
"I've never seen a darker skinned African American get promoted in our store nor have I ever seen an African-American or minority hold a managerial position for that matter," she wrote. "I've worked at the store for the past three and a half years and I have never seen a minority promoted or hold a managerial position since my time at the store."
DuBose received a right-to-sue letter from the Missouri Commission on Human Rights earlier this year. She filed a formal complaint against Apple and Proffer in May.
Apple responded to the claims in its own filing last week in the U.S. District Court for the Eastern District of Missouri. In that filing, it is admitted that DuBose received a positive employee review with a score of four out of five, but also that the manager warned DuBose that she needed to work on keeping her composure with difficult customers.
"Defendants admit that there are approximately 104 employees at the Apple Galleria store and approximately 8 of these individuals classify themselves as African American," Apple's response reads. "Defendants further admit that two of these individuals are full time."
Most of the remaining allegations from DuBose were denied by the defendants, including her claim that she was "one of the highest selling specialist(s)" in the region.
As a major retailer in the U.S., Apple has been hit with a number of discrimination claims in court. One lawsuit filed in May alleged that employee's at Apple's store on the Upper West Side of New York City told two black men they were not welcome there.
Last December, one lawsuit came out of Apple's SoHo store in New York, accusing employees of discriminating against an employee after she took a medical leave of absence due to a nervous disorder. That same month, a man in his 60s accused Apple of age discrimination at a store in Orlando, Fla.