Apple retail plans, sources point to Mac OS X Lion launch next week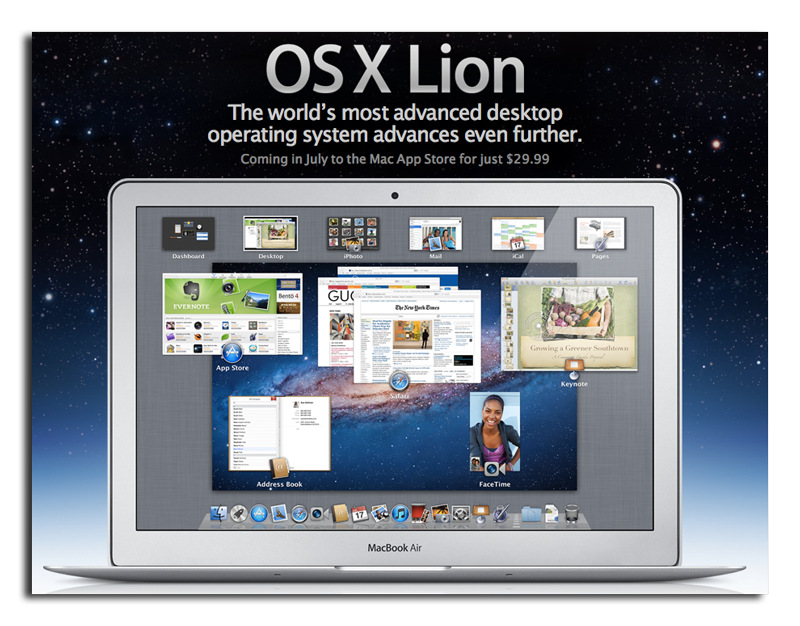 Apple late Wednesday evening began advising members of its retail segment of several preparatory measures ahead of an expected launch of its Mac OS X Lion operating system next week, which other partners say will be followed closely by the launch of much-anticipated refreshes to the company's MacBook Air notebook family.
For example, one person with access to the company's internal retail news network told AppleInsider that a new bulletin posted to the system this week is advising store management to perform RAM upgrades to certain Mac models on the showroom floors by Sunday, July 10th at the latest — presumably in preparation for those models to be upgraded with Lion shortly thereafter.
This same person also mentioned hearing rumors from colleagues that Apple may formally invite some customers to its retail locations to download the new OS from within the store so that they can receive assistance in becoming familiar with some of Lion's more prominent enhancements.
Separately, another person employed at an Apple retail store said management late Wednesday night began advising employees that an overnight planogram shift will also be held sometime next week, though this person did not provide a specific date for the move.
Overnights historically take place at the Cupertino-based company's retail shops ahead of major product introductions and task several members of each store with working through the night reorganizing product displays, window signage and performing other tasks necessary to facilitate each particular product launch.
Meanwhile, people with ties to Apple's other operating segments are supporting claims that Apple will make Mac OS X Lion available to the general public sometime next week. They add that long-awaited refreshes to the MacBook Air line will follow the launch closely, possibly the following week.
As AppleInsider exclusively reported a little less than a month ago, Apple management made a decision earlier this spring to freeze new Mac introductions, such as the new MacBook Airs, until the completion of Lion so that it could image the new notebooks with a Gold Master build of Lion, which would afford buyers the latest and greatest Apple experience.
This includes complimentary iCloud services that will come built into the software, offering a means of automatic data synchronization that is both unparalleled in the computing industry, and paramount in an age when consumers are adopting a digital lifestyle in which they own and operate multiple mobile devices.
Of those 380,000 initial mid-2011 MacBook Airs, roughly 55 percent (or 209,000) were built of the 11.6-inch varieties, which have proven slightly more popular than the 13.3-inch offerings due to their more attractive entry-level price points.
Lion will be available to users running Mac OS X 10.6 Snow Leopard as a $29.99 download from the Mac App Store. Among its 250 new features, the OS upgrade will introduce new Multi-Touch gestures and fluid animations, full screen apps, Mission Control, Launchpad, a redesigned Mail app, application Resume, Auto Save, Version histories, and AirDrop.
For more on these features and others, see AppleInsider's illustrated in-depth series: Inside Mac OS X Lion.