Apple to begin production of Thunderbolt MacBook Airs next month

Apple next month will reportedly begin manufacturing the first updates to its rejuvenated MacBook Air line as the company looks to maintain the impressive sales momentum generated by the ultra-thin notebooks and limit the market opportunity for would-be competitors hoping to wedge their foot in the door.
Sales of the aggressively-priced 11.6- and 13.3-inch MacBook Airs got off to a hot start following their introduction last October, with Apple assembling roughly 1 million units within their first quarter of availability. During those three months, consumers reportedly chose the new MacBook Airs at a one-to-two ratio to the company's more established MacBook Pro offerings, making for one of the company's most successful Mac product launches ever.
However, shipments of the Airs declined 51 percent sequentially during the first calendar quarter of 2011 — including a 40 percent month-over-month decline in February — as Apple introduced new MacBook Pros that caught consumers' eyes, according to Concord Securities analyst Ming-Chi Kuo, who has proven sources within the Cupertino-based company's Far Eastern supply chain.
Kuo tells AppleInsider that his latest round of checks with suppliers and system builders in the region reveals that MacBook Air shipments are set to rebound during the current calendar quarter, fueled by an upgrade to Intel's latest Sandy Bridge microprocessors, integrated Intel graphics, and the expected adoption of the new Thunderbolt high-speed I/O technology that made its debut on MacBook Pros earlier this year.
Specifically, he said the new models will "go to mass production in late May," which corroborates an earlier report that cited reliable sources as saying Apple would be ready to publicly announce and ship to consumers MacBook Airs with Sandy Bridge processors during following month of June.
The upgrade should help boost Apple's overall notebook shipments between 5 percent to 10 percent sequentially for the current quarter, according to Kuo, reversing a 5 percent decline from the fourth quarter of 2010 to the first quarter of 2011, which he notes was still less than the 11% average decline for notebook shipments from the top 6 OEMs worldwide during the same period.
In moving to Intel's 32-nanometer (nm) Sandy Bridge architecture, the mid-2011 MacBook Airs will jettison two-year-old Penryn-based 45-nm Core 2 Duo chips for the chipmakers' new line (below) of low-voltage and ultra-low-voltage Core i5 and Core i7 chips, which sport between 3MB and 4MB of Smart Cache and support a theoretical maximum of 8GB of internal system memory.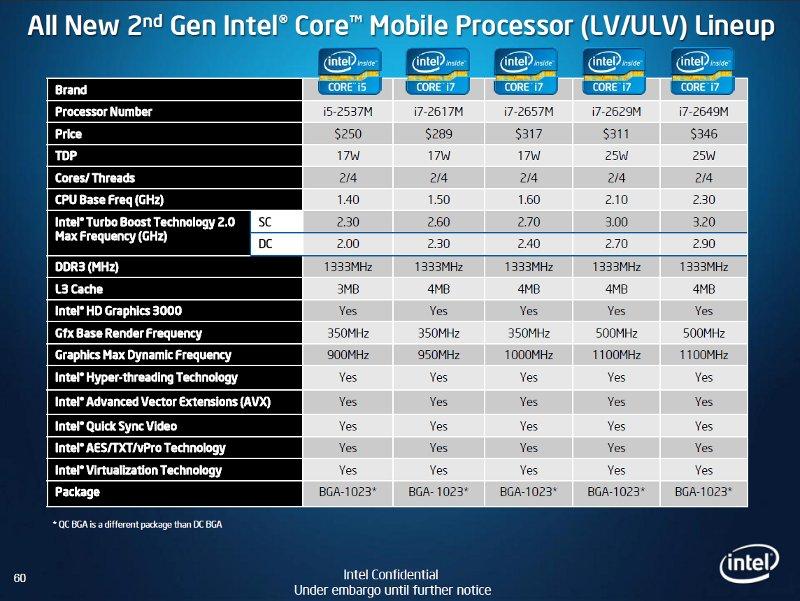 Should Apple follow its current trend of using ultra-low-variants for the 11.6-inch MacBook Air and low-voltage ones for the 13.3-inch models, consumers can expect to see new 11.6-inch MacBook Airs sporting 1.4GHz to 1.6GHz Core i5 and Core i7 chips and 13.3-inch MacBook Airs with 2.10 and 2.30GHz Core i7 processors.
In a report shared with AppleInsider last week, Kuo also noted that production of Apple's legacy white MacBook model has been on a steady decline since the start of the year, with shipments falling 10% and 50% in February and March, respectively. As such, it's likely that Apple will similarly need to make some form of announcement regarding the future of this offering sometime in the coming months.