Apple could test limited iTunes HD+ 1080p movie service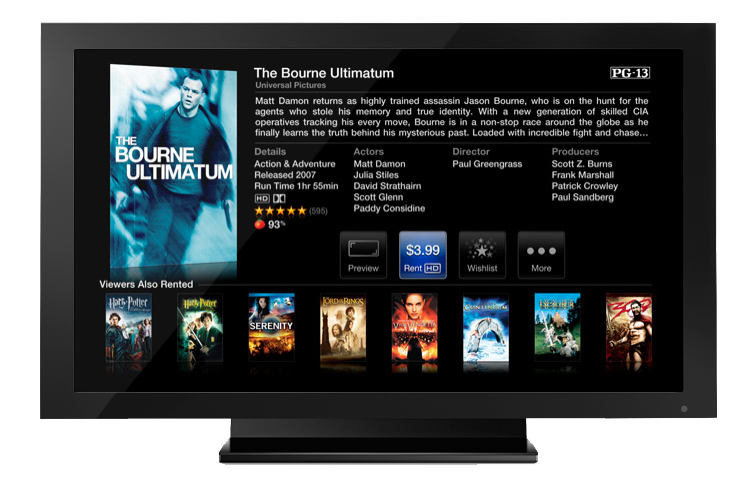 AppleInsider may earn an affiliate commission on purchases made through links on our site.
Apple as early as this fall may choose to test the waters for 1080p video sales through its ubiquitous iTunes service, AppleInsider has been advised.
Thus far, 1080p HD content has largely eluded users of Apple products, with HD versions of videos on the company's digital download service maxing out 720p (1280x720) and chief executive Steve Jobs balking at adoption of Blu-ray on Macs due to licensing complications and other challenges that he said threatened to translate into a "bag of hurt."
But that could begin to change later this year, as a handful of feature films being submitted to the iTunes Store for a release in the September and October timeframe are being sent with documentation for an optional 1920x1080 resolution, according to people familiar with the matter.
For instance, one such film from 20th Century Fox was said to have arrived with encoding options for SD (480p), HD (720p), and a new, third format listed as HD+ (1080p). Similarly, a small number of upcoming releases from two of the other 'big 5' movie studios were submitted with optional resolutions of 1920x1080 and an average bitrate encoding of 10,000 kbps.
According to these same people, there have been rumors inside the company of a new version of Apple's $99 Apple TV device under development that would be capable of outputting 1080p streams via an upgrade to the company's new A5 chip, unlike the existing model which can accept 1080p content but downscales all output to 720p due to the lack of horsepower in the device's first-generation A4 processor.
Word of films making their way to iTunes with options for the new HD+ format come just weeks after early builds of Apple's upcoming iOS 5.0 software were discovered to include a new video player capable of displaying and syncing 1080p content on the iPad 2. The second-generation tablet is the first Apple product to sport the company's brawnier A5 chip, which could similarly pave the way for 1080p HD playback capabilities via future iPhones and next-generation Apple TVs, when it makes its way to those devices.
Asked whether the company currently sports the backend capabilities to begin serving 1080p video files to the mass market, people close to Apple's content distribution partners affirmed the iTunes operator already maintains such technology. The challenge, they say, remains on the consumer end, where users opting to stream such massive files in near real-time would require a stable downlink in the realm of 10 megabits per second.
Residential high-speed connections of that stature aren't exactly rare in the U.S. but they aren't commonplace either. For example, Akamai's latest "State of the Internet Report" found that the average connection speed in the U.S. during the fourth quarter of 2010 was just 5.1 megabits, or roughly half of what would be needed to stream 1080p content without having to wait an extended period of time for the content to buffer.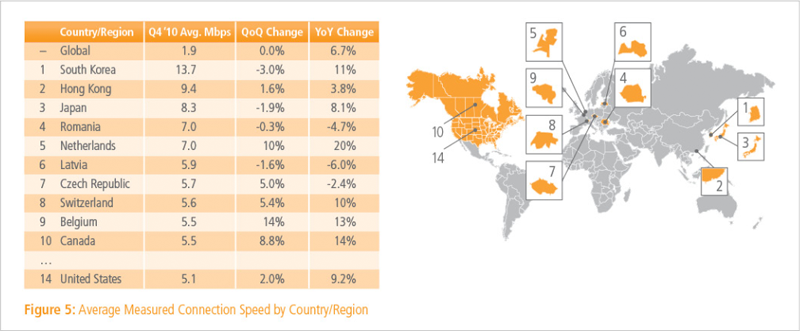 The same report found that 36% of the U.S. internet connections exceeded 5 megabits, which was up 12% from the prior year. As for the average connection across the entire states, growth came in at just over 9% from the fourth quarter of 2009 to the fourth quarter of 2010.
Should Apple choose to move forward with limited 1080p releases on the iTunes Store this year, it could chose to do so as direct downloads to Macs or PCs only. Alternatively, it could offer them selectively to owners of an updated Apple TV that would only display HD+ options to consumers whose internet connection it validated as sufficient.