Apple snags 50% of handset industry profits ahead of first 100M iPhone year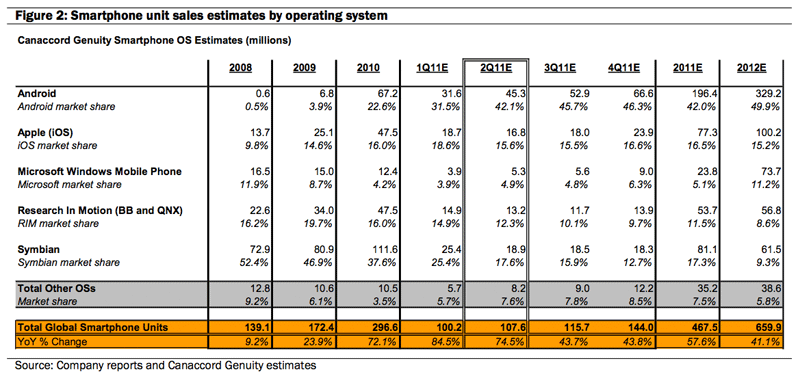 AppleInsider may earn an affiliate commission on purchases made through links on our site.
In less than four years, Apple went from not making a dime on handset sales to commanding approximately half of the industry's profits, and is now poised to set the bar even higher by shipping 100 million iPhones over a 12-month span, financial experts say.
Although smartphones running Google's Android OS continue to gain share of total smartphone units sold, when it comes to profits, Apple remains the undisputed king, raking in roughy 50% of the entire handset industry's net earnings during the first quarter of 2011, according to Canaccord Genuity analyst T. Michael Walkley.
"Our [June] checks indicated continued strong sales of the iPhone 4, as it remained by far the top-selling smartphone at AT&T and Verizon despite the continued popularity of 4G smartphones and several new high-end Android smartphones," he said.
At Verizon Wireless in particular, Walkley said his checks indicated the iPhone 4 was the #1 selling smartphone during June despite six new high-end Android smartphones from OEMs such as HTC (Thunderbolt – LTE, Incredible 2), Motorola Mobility (Droid X2), Samsung (Droid Charge - LTE), Sony Ericsson (Play), and LG (Revolution – LTE) launching in the last couple months.
"Further, with Verizon not allowing subsidies to customers that are still under a two-year contract, we anticipate steady upgrades by Verizon customers to the iPhone will continue over the next several quarters," he said. "As a result, we believe the iPhone will remain the top- selling smartphone at Verizon throughout 2011."
That said, Walkley is forecasting Apple's share of smartphone unit sales to actually fall from an estimated 16.0% in 2010 to just 15.2% by the end of 2012. However, as consumers continue to trend towards smartphones, that 15.2% will equate to just over 100 million units, or roughly 25 million iPhones per quarter.
During the same period, the analyst estimates that smartphones running Android will see their share of the market soar from an estimated 22.6% to a market dominating 50%, jumping from 67.2 million units to 329 million units.
Still, Apple's iOS installed base is believed to be the key differentiator for Apple, as it runs on the iPad and iPod touch in addition to iPhones. As such, Walkley is modeling the iOS base to rise rapidly from 250 million devices in 2011 to 415 million by the end of 2012, easily outmatching Android to remain the industry's leading mobile operating system.
The analyst noted that his models assume Apple will not launch a lower-tier iPhone during 2012. Instead, he believes Apple will ship a modest mix of older iPhone versions such as the 3GS and iPhone 4 in order to create a more tiered portfolio. And even with those yesteryear designs, he still sees the company achieving its well-above-average gross margins despite the sub $400 average selling price the models will generate.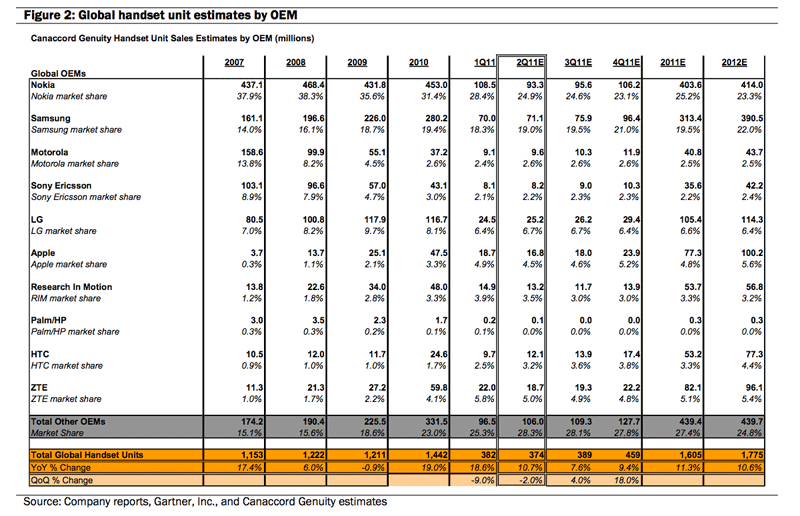 However, should Apple decide to introduce a new lower-tiered iPhone, Walkley's forward-looking market share estimates for the company could prove conservative.
"Perhaps the strong unit market share growth for Android could result in Apple introducing a broader portfolio of iPhones in order to better compete in more price sensitive emerging markets," he said.
Walkley reiterated his Buy rating on shares of the iPhone maker, raising his price target from $485 to $500 per share.