iOS App Store downloads grow 61%, average app price up 14%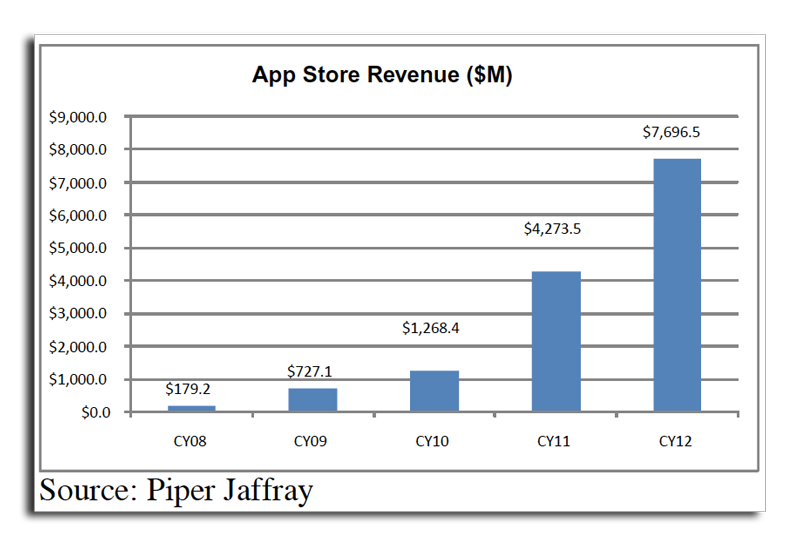 AppleInsider may earn an affiliate commission on purchases made through links on our site.
Having recently hit the 15 billion download milestone, a new analysis has found that downloads from Apple's iOS App Store will increase 61 percent in calendar year 2011, while the average selling price of software will be up 14 percent.
Gene Munster with Piper Jaffray published on Monday his latest App Store model, including average selling prices, for the official iOS digital download destination. The new numbers reflect Apple's announcement from last week that more than 15 billion applications have been downloaded by more than 200 million iPhone, iPad and iPod touch users.
Munster estimates that the average iOS user will download 83 applications in calendar year 2011, up from 51 in calendar year 2010. That's an increase of 61 percent year over year.
"We believe this trend points to the increasing importance of an app store with a broad selection of tested apps to drive device sales," Munster wrote. "Smartphone users are showing an increasing appetite to use apps to add features to their phones, and iOS has the leading app ecosystem."
Piper Jaffray's App Store model also indicates that paid application average selling prices are on the rise in 2011. Munster said the data shows prices up 14 percent year-over-year in calendar year 2011, compared to the 18 percent decline seen by paid applications in 2010.
"After the initial race to the bottom in App Store pricing, we are seeing users pay up to add features and games to their iOS devices," he said.
Using Apple's announced figures, the App Store model suggests that 82 percent of applications on the iOS App Store are free, while 18 percent are paid. Those paid applications have an average selling price of $1.44.
Munster attributed the increase in 2011 at least partially to more expensive iPad applications that are gaining share among App Store downloads. The average selling price of the top 10 iPad applications is $6.32, up 36 percent from $4.66 a year ago. Meanwhile, the top 50 iPhone applications have an average price of $1.61.
The App Store model also shows that iPhone, iPad and iPod touch users are now downloading more than 32.3 million applications per day. That's nearly triple the 11.9 million-per-day rate of tracks downloaded from Apple's iTunes Music Store.
Apple does not profit greatly from its iOS App Store, and Piper Jaffray estimates that the company's 30 percent share of all sales amounts to just 1 percent of its total revenue. More importantly for Apple, though, the App Store drives sales of iOS devices — something that Munster admitted is hard to quantify.
"Even though our qualitative analysis does not factor in the sale of additional devices, we believe the App Store drives device sales," he said. "We see a virtuous cycle of Apple's robust app ecosystem adding features and functionality to the iOS devices, which drives sales, which makes the ecosystem more robust, which encourages more developers to write apps, and the cycle repeats itself."