Apple releases 64-bit, full-screen iTunes 10.4 and iWork updates [u]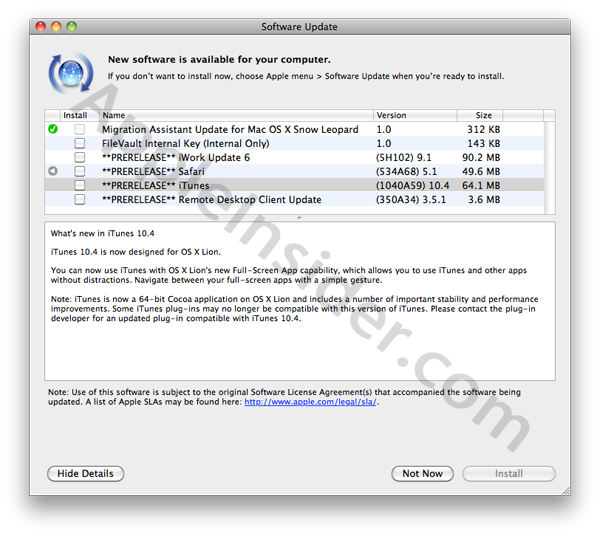 AppleInsider is supported by its audience and may earn commission as an Amazon Associate and affiliate partner on qualifying purchases. These affiliate partnerships do not influence our editorial content.
With Mac OS X Lion now unleashed on the Mac App Store, Apple has also introduced a new version of iTunes that is both 64-bit and full-screen capable, in addition to full-screen version of iWork that will also leverage several other Lion features [update: now available].
Updated: iWork Update 6 (90.2MB) and iTunes 10.4 (64.1MB) are now both available via Software Update. In addition, Apple on Wednesday also released Remote Desktop Client Update 3.5.1 (3.6MB).
The updates to both iWork and iTunes add features found in Lion, Apple's new operating system released on Wednesday. Both the iWork suite and iTunes support full-screen mode, while Pages, Numbers and Keynote will also gain Resume, Auto Save and Versions functionality.
Earlier Wednesday, AppleInsider was provided screenshots of pre-release downloads via Software Update, revealing ahead of time that Apple with iTunes 10.4 will also upgrade the media client to a full-fledged Cocoa application with 64-bit support.
Apple's internal release notes revealed that some iTunes plug-ins may no longer be compatible with iTunes 10.4. Users are advised to contact the responsible plug-in developer to receive an update that is compatible with the latest version of iTunes.
Apple began to push 64-bit with Snow Leopard, its previous-generation operating system, which featured 64-bit support in its kernel. While 64-bit support has been added to applications over the years, including the recently released Final Cut Pro X, iTunes became something of an anomaly without Cocoa and 64-bit support.
Set to be added to both iTunes and iWork, full-screen application support is one of the hallmark features of Lion. With a quick multi-touch gesture, users can quickly switch between active applications in Lion.
Lion also features Resume, which brings applications back exactly how they were left when restarting a Mac, or just quitting and relaunching the application. The new Auto Save functionality automatically and continuously saves iWork documents as users work on them.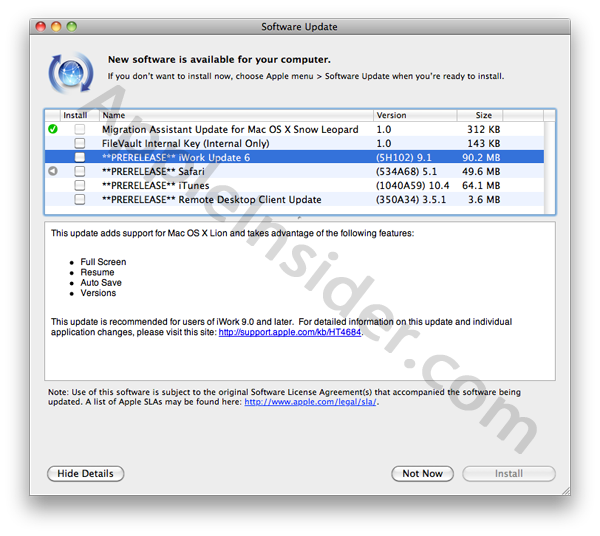 Another new feature is Versions, which automatically records the history of a document as it is created. Using Versions, users can also easily browse, revert and copy and paste from previous versions of a document or file in iWork, or other Lion-compatible applications.
Mac OS X 10.7 also features AirDrop, a new built-in feature that finds nearby Macs and automatically sets up a peer-to-peer wireless connection. This makes transferring files and documents between Macs quick and easy.