New MacBook Airs, Mac minis feature Lion Internet Recovery disc-less repair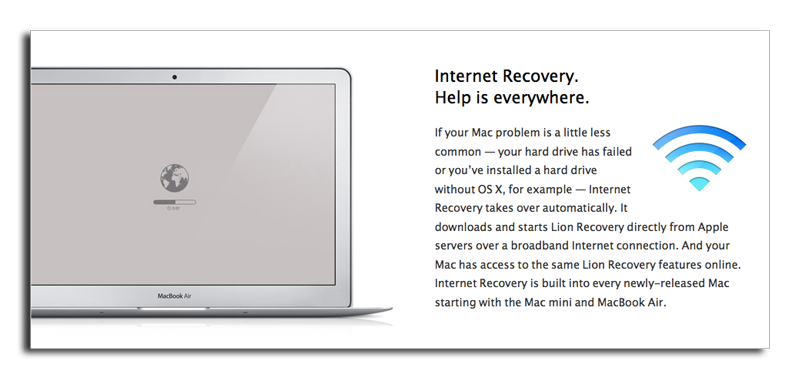 AppleInsider is supported by its audience and may earn commission as an Amazon Associate and affiliate partner on qualifying purchases. These affiliate partnerships do not influence our editorial content.
Given the lack of an optical drive all of Apple's new MacBook Air and Mac mini models, the company has included a new "Internet Recovery" feature in its new operating system to reinstall Lion or initiate repairs on the latest Macs.
Apple detailed the new feature in a support document posted on its website on Wednesday. It reveals that Lion Recovery will provide users with all of the tools they need to reinstall their operating system, or even restore from a Time Machine backup, all without the need for optical discs.
Users can access the traditional Recovery HD tool by restarting their Mac and holding down the Command and R keys until the Apple icon appears. Users are then presented with a desktop with an OS X menu bar and a "Mac OS X Utilities" application window.
To reinstall Lion, users will need to be connected to the Internet, either via Ethernet or Wi-Fi. Users can select a Wi-Fi network and enter the appropriate password by selecting the Wi-Fi menu item in the upper right corner of the screen.
If users cannot access the regular Recover HD feature of their Mac when holding Command-R at startup, the Internet Recovery feature is available on all hardware introduced after the public availability of Mac OS X 10.7 Lion. So far, that includes the new Mac mini and MacBook Air models released on Wednesday.
"Lion Internet Recovery lets you start your Mac directly from Apple's Servers," Apple's documentation reads. "The system runs a quick test of your memory and hard drive to ensure there are no hardware issues.
"Lion Internet Recovery presents a limited interface at first, with only the ability to select your preferred Wi-Fi network and, if needed, enter the WPA passphrase. Next, Lion Internet Recovery will download and start from a Recovery HD image."
Lion Recovery requires that DHCP be enabled on a Wi-Fi or Ethernet network. And if Lion was bought from the Mac App Store, users will be prompted to enter their Apple ID and corresponding password to authenticate the re-download.
"If your Mac problem is a little less common — your hard drive has failed or you've installed a hard drive without OS X, for example — Internet Recovery takes over automatically," Apple's promotional site for the feature reads. "It downloads and starts Lion Recovery directly from Apple servers over a broadband Internet connection. And your Mac has access to the same Lion Recovery features online. Internet Recovery is built into every newly-released Mac starting with the Mac mini and MacBook Air."
The addition should add some comfort to owners of Apple's devices who download Lion from the Mac App Store. In particular, the new Mac mini released by Apple on Wednesday is the first version of the consumer desktop that does not include an optical drive.
Lion Internet Recovery only works on WPA and WPA2 networks. Command-R Recovery HD extends reinstall support for Lion to WEP, WPA-Enterprise, and Captive-Networks. Neither feature works with PPPoE where there is no router handling the PPPoE connection, proxies where specific proxy servers must be configured in network preferences, and certificate-based authentication/802.11x.
Apple also offers the following four important notes on installing Lion via the recovery service:
Your storage device must have at least 13 GB available (after formatting) to install Lion and an Internet Restore partition.
These steps will erase and reformat the storage device. This article will instruct you on setting up the storage device to use the GUID partition scheme and the Mac OS Extended (Journaled) format, which are required to install Lion and an Internet Restore partition on your external storage device. You should back up any important files that are on the device to a different drive.
This procedure will install a version of the OS X Lion that is compatible with the Mac it was created with. Using this Lion system with a different kind of Mac may produce unpredictable results.
Your computer's serial number will be sent to Apple to help authenticate your request to download and install OS X Lion.
Finally, Apple also offers details on how to install Lion on an external storage device. This allows users to install Lion to a different internal hard drive, or to an external USB, Firewire, SDHC or SDXC card, or a Thunderbolt storage device.
Users must attach the device, erase and format it via the launch Disk Utility from the /Applications/Utilities folder. Then hold the Option key and launch the Lion installer downloaded from the Mac App Store, available in the /Applications folder.