After $8M victory, Personal Audio sues Apple again over same patent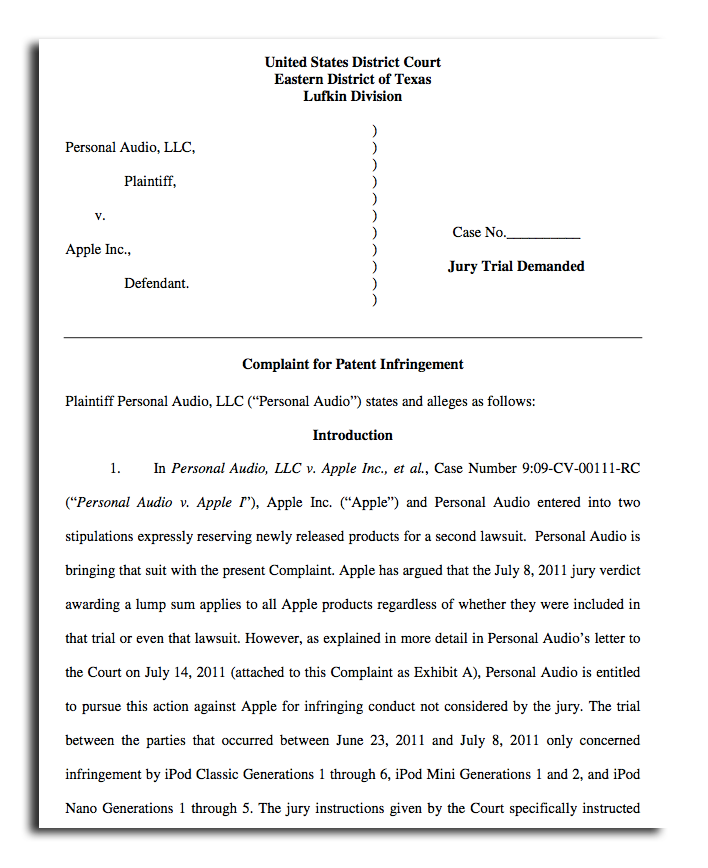 Less than two weeks after Personal Audio won an $8 million decision against Apple, the company has once again sued the iPod maker over the exact same patent, but in a complaint that targets new devices.
Filed this week in a U.S. District Court in the Eastern District of Texas, Personal Audio's latest legal action specifically cites the sixth-generation iPod nano, fourth-generation iPod shuffle, fourth-generation iPod touch, iPhone 4 and iPad 2. As in its previous complaint, the patent holder is accusing Apple of violating a patent related to music playlists.
Personal Audio first sued Apple in 2009, asking for $84 million in damages. Earlier this month, a jury found that the patents were indeed infringed upon by Apple, and ordered the Cupertino, Calif., company to pay $8 million.
The previous suit cited two patents, but the latest complaint filed this week brings back one of the inventions cited in the first lawsuit: U.S. Patent No. 6,199,076, entitled "Audio Program Player Including a Dynamic Program Selection Controller."
But the previous complaint, Personal Audio argues in its new lawsuit, exclusively covered the iPod classic, iPod mini, iPod nano generations one through five, first-generation iPad, and original iPhone through iPhone 3GS.
Apple has attempted to argue that the jury decision represents all products, regardless of whether they were named in the original suit. But Personal Audio believes it is entitled to seek even more damages from Apple for its alleged infringement.
"The jury instructions given by the Court specifically instructed the jury to disregard any evidence that Personal Audio was entitled to damages relating to products not accused in that litigation," the complaint reads.
"Furthermore, the verdict form instructed the jury to award damages only for the conduct the jury found to infringe. Consequently, the damages award issued by the jury on July 8, 2011, does not cover any other products."
The jury award handed out earlier this month, on July 8, was followed up with the latest lawsuit filed just 12 days later, on July 20. The products named in the new suit were not even unveiled when the original complaint was lodged in 2009.
Patent lawsuits have become a common occurrence in Apple's business, as the company is frequently challenged in court. Just last week AppleInsider discovered that Apple is looking to bolster its legal team with new patent experts as intellectual property complaints continue to mount.